In the silkscreen print "Rio Por No Llorar" ("I Laugh to Keep from Crying"), Carmen Miranda's famous fruit-laden headdress demands that you look more closely. Bananas with a Chiquita label are encased in barbed wire. A bunch of grapes is surrounded by skulls and crossbones — a pesticide warning....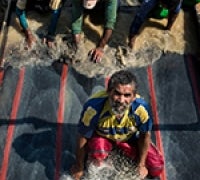 The photos are chilling: Giant swathes of devastation in the Brazilian Amazon. Men hip-deep in the brown muck of the gouged and flooded earth. They are the scenes of illegal gold mining in "Garimpeiros: The Wildcat Gold Miners of the Amazon Rainforest," an exhibition in the Ocean Gallery of the UC...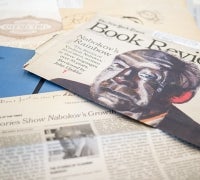 UCSB Professor Emeritus D. Barton Johnson's academic biography describes him as "a leading figure of Nabokov studies for many years." Zoran Kuzmanovich, president of the International Vladimir Nabokov Society, begs to differ. Johnson "was not a leading figure. He was and still is absolutely the...
Pages