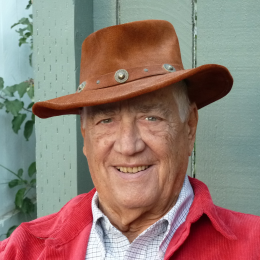 Preserving Groundbreaking Research in Geography, Geoinformatics and Geographic Information Science
This fall, the UCSB Library acquired the academic archives of notable faculty emeritus Dr. Waldo R. Tobler (1930–2018) as part of our University Archives. The University Archives collects and preserves historical documents related to UCSB's legacy and includes unique archival materials of esteemed faculty, including research and teaching notes and unpublished manuscripts.
The archives were donated to the Library by Tobler's widow, Rachel Tobler, a longtime Library supporter who also created the Waldo Tobler Memorial Lecture Fund in Geography, which supports her husband's home department. Professor Tobler joined the Department of Geography in 1977 and became an emeritus professor in 1994, continuing to be active during his retirement. Prior to teaching at UCSB, he was a professor of geography at the University of Michigan from 1961 until 1977. He attended schools in Seattle and Zurich, and received his Ph.D. at the University of Washington in 1961. A dual American-Swiss citizen, he served in intelligence for the U.S. Army during the Korean War.
Tobler was an internationally renowned geographer and cartographer. Beginning in the 1960s, he introduced innovative methods based on digital technologies in geographic research that emphasized theory, mathematical modeling, and dynamic visualization. He is best known in the discipline as the creator of the first law of geography, "Everything is related to everything else, but near things are more related than distant things." He formulated this idea during a meeting of the International Geographical Union's Commission on Qualitative Methods held in 1969 and published it in 1970.
Together with his UCSB colleagues David Simonett and Michael Goodchild, he was one of the principal investigators in the National Center for Geographic Information and Analysis, which was established by the National Science Foundation and operated by a consortium of three member institutions, including UCSB.
"Dr. Tobler's contribution to the field of Geographic Information Systems cannot be overstated–in fact, some would say that he is one of the most influential geographers in the last century," says University Archivist Matt Stahl. "It is an honor to preserve his primary resource materials in our archives as they represent the high quality of research taking place at UC Santa Barbara."
Dr. Tobler's influence on the field of GIS is recognized by a namesake prize, The Waldo Tobler GIScience Prize of the Austrian Academy of Sciences, which is awarded for scientific advancement in the disciplines of Geoinformatics and/or Geographic Information Science.
Broad recognition of Dr. Tobler's scientific advances and contributions are reflected in his election to the National Academy of Sciences as well as honors bestowed by the American Geographical Society, American Geographical Society, and the Association of American Geographers. He was also the recipient of the Andrew McNally Award and the ESRI Lifetime Achievement Award in 1986 and received a ESRI Lifetime Achievement Award in 1999.
Dr. Alan Murray, a colleague of Dr. Tobler in the Department of Geography, remembers that "Professor Tobler was curious and smart, with interests in geography, cartography and GIS but also outside of these disciplinary foci. In retirement, he regularly attended research conferences as well as talks given at UCSB, often sharing related research that he had done via a CD-ROM or DVD. His archives are no doubt a prized treasure trove of ideas as well as scientific advances that never rose to the top of his list of things to present at a public forum or publish in the literature."
Academic archives are important records of the historic research produced by UCSB faculty members and have significant research value in supporting current and future scholarship. They also play a role in maintaining the legacies of professors like Dr. Tobler, who influenced and inspired students and faculty members alike over the course of many decades. 
Rachel Tobler says this about her decision to donate Dr. Tobler's archive to UCSB: "I am so glad to be able to donate Waldo Tobler's collection of papers and research materials to UCSB Library. Curiosity was one of Waldo's outstanding characteristics. The Library provided a place to exercise that curiosity, to roam intellectually where his interests took him."
She continues, "Waldo used the library extensively for research. Every year he took his History of Cartography class to the Special Research Collections department to see, touch, and enjoy the treasures there. He enjoyed introducing students to original research materials. Our joint love of libraries makes this gift to UCSB so meaningful for both of us. I look forward to knowing that future generations of scholars will be able to access this collection for their work."