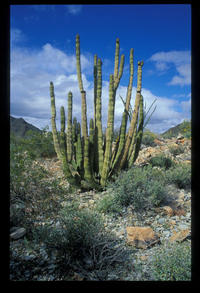 Click on the following linked text to explore our digital collections!
Adam Matthew Collections - Adam Matthew publishes unique primary source collections from archives around the world. As a contributor to their Trade Catalogues and the American Home digital collection, UC Santa Barbara has access to several other beautifully presented digital materials.
Aerial Photography - The Library has made more than 400,000 of its 2.4 million aerial photographs available for public download.  Photographs of California date back to 1927.
Alexandria (formerly UCSB Library Digital Collections) - The Digital Collections Portal highlights the library's unique and rare collections, including historic photographs, rare books, art prints, historical sound recordings, maps, government documents and other materials from Special Research Collections and elsewhere in the library. Materials from Special Research Collections include the University Archives Photographs Collection (UArch 112), the Bernard Herrmann Papers (PA Mss 03) and the Joel Conway/Flying A Studios Photograph Collection (SBHC Mss 78), among much more.
Black Lives Matter Community Archives Project - The Black Lives Matter Community Archives Project invites everyone in the community invested in fighting anti-Blackness to be a part of the project. The collection will focus its scope on our local Santa Barbara community experiences regardless of affiliation with UCSB. Anyone can submit images, word documents, photographs, audio and video files, or any other digital objects related to dismantling white supremacy in Santa Barbara. Please consider submitting content to this project to lift the voices of our Black community members. 
Calisphere - CEMA has contributed approximately 8,000 images to Calisphere, the University of California's gateway to digitized items. Calisphere's California Cultures pages include Chicano and Latino topics. Many CEMA image contributions are in the Politics, Culture, and Art (1960s-Present) section.
Cylinder Audio Archive - The UCSB Cylinder Audio Archive provides free access to a digital collection of nearly 13,000 cylinder recordings held by the Department of Special Research Collections. You can find out more about the cylinder format, listen to thousands of musical and spoken selections from the late 19th and early 20th centuries, and discover a little-known era of recorded sound. 
Discography of American Historical Recordings (DAHR) - DAHR is an index to master recordings (matrixes) and published discs made by major American record companies including the Victor Talking Machine Company, Columbia Records, the Berliner Gramophone Co., OKeh Records, Zonophone Records, Leeds & Catlin Records, and Decca beginning in 1894. The database is edited by a team of researchers based at the UC Santa Barbara Library with funding from the Packard Humanities Institute and the National Endowment for the Humanities. In cooperation with the Library of Congress, recordings made by Victor, Columbia, and other companies are being systematically digitized. Streaming copies of over 45,000 recordings can be listened to through the DAHR or the National Jukebox.
ImaginArte - ImaginArte was an interdisciplinary humanities project that drew upon CEMA collections to foment new research, scholarship, exhibitions, and publications. Its overall goal is to support new scholarship, research, exhibitions, publications, and greater online access to the visual legacy of the Chicano movement.
Internet Archive - Through collaboration with the California Audio Visual Project (CAVPP), CEMA contributed about 230 videos from Califas: Chicano Art and Culture in California, El Teatro Campesino Archives, and Sojourner Kincaid Rolle Papers which are digitized and available on the Internet Archive.
Religions of America -  This Gale Primary Sources project traces the history and unique character of religious movements that originated in or were re-shaped by the United States during the nineteenth and twentieth centuries. The collection pays especially close attention to America's unique role as a birthplace for new religious movements, especially after World War II. This collection includes materials from a variety of sources in an effort to capture the varieties of the American religious experience.
UCSB COVID-19 Community Archives Project - This new project is a digital collection made entirely of user-generated content from the UCSB community. UCSB Special Research Collections archivists are collecting material from UCSB affiliates (faculty, staff, students, and alumni) related to their experiences during the COVID-19 pandemic. This collection offers a space for people in our campus community to share their stories, pictures, videos, creative writing, and anything else that documents their lives in isolation or their individual struggles and triumphs during this difficult time. The digital collection will be available to the public once submissions have been processed.