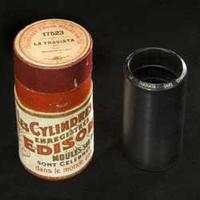 Cylinder recordings, the first commercially produced sound recordings, are a snapshot of musical and popular culture in the decades around the turn of the 20th century. They have long held the fascination of collectors and have presented challenges for playback and preservation by archives and collectors alike.
UCSB's collection of over 22,000 cylinder titles from around the globe is one of the largest collections in the world. With funding from the Institute of Museum and Library Services, Grammy Foundation, and generous donors, the UCSB Library has created the UCSB Cylinder Audio Archive, a digital collection of more than 15,000 cylinder recordings held by the Department of Special Collections. In an effort to bring these recordings to a widest possible audience, the project has made them available for free downloading or streaming online.
The cylinder phonograph also allowed its owners to make sound recordings at home. The UCSB Library's Department of Special Research Collections houses more than 650 vernacular wax cylinder recordings, or "home recordings," which were added to the 2014 National Recording Registry by the Library of Congress. Recorded from the 1890s through the 1920s, these audio "selfies" of everyday life are perhaps the most authentic sound documents of the period: songs sung by families, instrumental selections, jokes, and even the cries of babies and barnyard animals.
On the Cylinder Audio Archive you will have the opportunity to find out more about the cylinder format, listen to thousands of musical and spoken selections from the late 19th and early 20th centuries, and discover a little-known era of recorded sound.
For information on making a donation to the collection, contact the curator. Guidelines for packing and shipping donations can be found here.