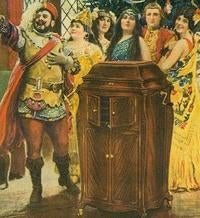 The Discography of American Historical Recordings (DAHR), is a database of more than 130,000 master recordings made by American record companies during the 78rpm era. It is part of the American Discography Project (ADP)—an initiative of the University of California, Santa Barbara and the Packard Humanities Institute that is edited by a team of researchers based at the UC Santa Barbara Library. The DAHR is an expansion of the Encyclopedic Discography of Victor Recordings (EDVR) database. It incorporates all the contents of the former EDVR database and adds previously published discographic works under license from various publishers, folding them into the search and display framework of DAHR.
Documentation of the activities of the Victor Talking Machine Company and RCA Victor in the DAHR derives primarily from consultation of publications of the companies and original documents held in the archives of Sony Music Entertainment in New York City. The DAHR entries describing recordings made by Columbia Records and the Berliner Gramophone Co. are based on two authoritative published discographies, the four-volume Columbia Master Book Discography by Tim Brooks and Brian Rust (Westport, Conn. : Greenwood Press, 1999) and Berliner Gramophone Records : American Issues, 1892-1900, by Paul Charosh (Westport, Conn. : Greenwood Press, 1995.) The DAHR supplements information found in these sources with new research, examination of recordings in the collections of the University of California Santa Barbara library, and submissions from record collectors.
DAHR currently includes information on more than 130,000 master recordings (matrixes) made by Victor, Columbia, and Berliner. Included are:
Victor Talking Machine Company recordings made in the United States and in Central and South America before mid-1933, releases derived from masters recorded in Europe by the Gramophone Company, and trial recordings of new artists and sessions from which no discs were issued
Columbia Records 10" domestic masters recorded between 1901 and 1934
Columbia Records 12" domestic masters recorded between 1906 and 1931
Berliner Gramophone Co. domestic recordings from 1892 to 1900
The ADP is also a partner with the Library of Congress National Jukebox project and provides most of the cataloging data used in the Jukebox. As a result of this partnership, 10,000 recordings made by Victor between 1900 and 1925 can be streamed online. The digitization of Columbia recordings between 1901 and 1925 is in progress and these will be available for streaming on DAHR and on the National Jukebox website in the near future.