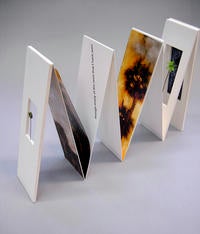 The Hobart O. Skofield Printers Collection contains more than 30,000 volumes and over 80 manuscript collections related to the history of the book, printing, and book arts. The emphasis of the printed collections includes California presses, artists' books, fine printing, bindings, papermaking, the history of the book, writing and printing, typography, bookplates, and miniature books.
History
The Printers Collection, as it is commonly known, was the second major area of collecting in the UCSB Library's Department of Special Collections. The initial collection was given to the library in 1948 as a gift from Mr. Hobart O. Skofield. His gift consisted of 550 volumes on the history of printing as well as examples of fine printing. He served as a consultant for the Printers Collection during the mid-1960s, assuring the collection's continued growth through his initial endowments and by a substantial bequest. At the age of 89, Mr. Skofield passed away. Since then, the collection has been called the Skofield Printers Collection, in memory of the man who gave the university a lasting and unique gift, one of importance to this and future generations of scholars of fine printing and the book arts.
Notable Material
California presses are well represented. These include: Arion, Black Sparrow, Book Club of California, Grabhorn, Flying Fish, Paul Elder, and Yolla Bolly presses. Santa Barbara presses are strongly represented, including Capra Press, Mary Heebner's Simplemente Maria Press, and Harry and Sandra Reese's Turkey Press. Numerous small and private presses such as Doves, Gehenna, Granary, Hogarth, Janus, Kelmscott, Nonesuch, Pennyroyal, Perishable, and Roycroft are represented in the collection. Examples of books and manuscripts from around the world include examples of Indonesian bone books, palm leaf manuscripts, woodblock prints, Sumerian cuneiform tablets, and Ethiopian manuscripts.
Other Holdings
Manuscript and archival collections include Hobart O. Skofield, Mudborn Press, John Henry Nash, Ninja Press (Carolee Campbell), Pear Tree Press, Bruce Rogers, Rowny Press, and Rudge Press. A partial list of manuscript collection is available here.
Additional Resources
For information on using the collections please contact the Special Collections reading room staff at special@library.ucsb.edu or call (805) 893-3062.
To receive a monthly notification of newly acquired artists' books (including books in the collection of the UCSB Arts Library), subscribe to our mailing list.
The library does accept unsolicited prospectuses for artists' books and maintains a collection of such but unsolicited sales calls may not be able to be returned. If you are interested in donating to the collection, please contact the Head of Special Collections.