Please continue to make use of our full imagery catalog and our directory of scanned images for existing digital content, linked here, if you are unable to find available scans in our FrameFinder.
Some of our aerial photographs can be found through our online map interface called FrameFinder.  We are continually adding content to this tool.  For aerial photographs not in FrameFinder, you can use our AP Flights Catalog and navigate directly to our directory of scanned images to see if they are available.  To request scans you'll need to first start with creating an account. To better understand how our aerial photographs are organized into flights, see Identifying Aerial Photography Flights.
FrameFinder
The FrameFinder tool allows you to search for and download more than 400,000 individual photographs online for free.  Also, if a photograph is not already scanned, you can request that it be scanned from inside the tool!  (There is a fee for having a photograph scanned.)
To get a better understanding how FrameFinder works, watch this brief tutorial.
The map defaults to the UC Santa Barbara area.  Zoom out and use navigational tools to explore other areas.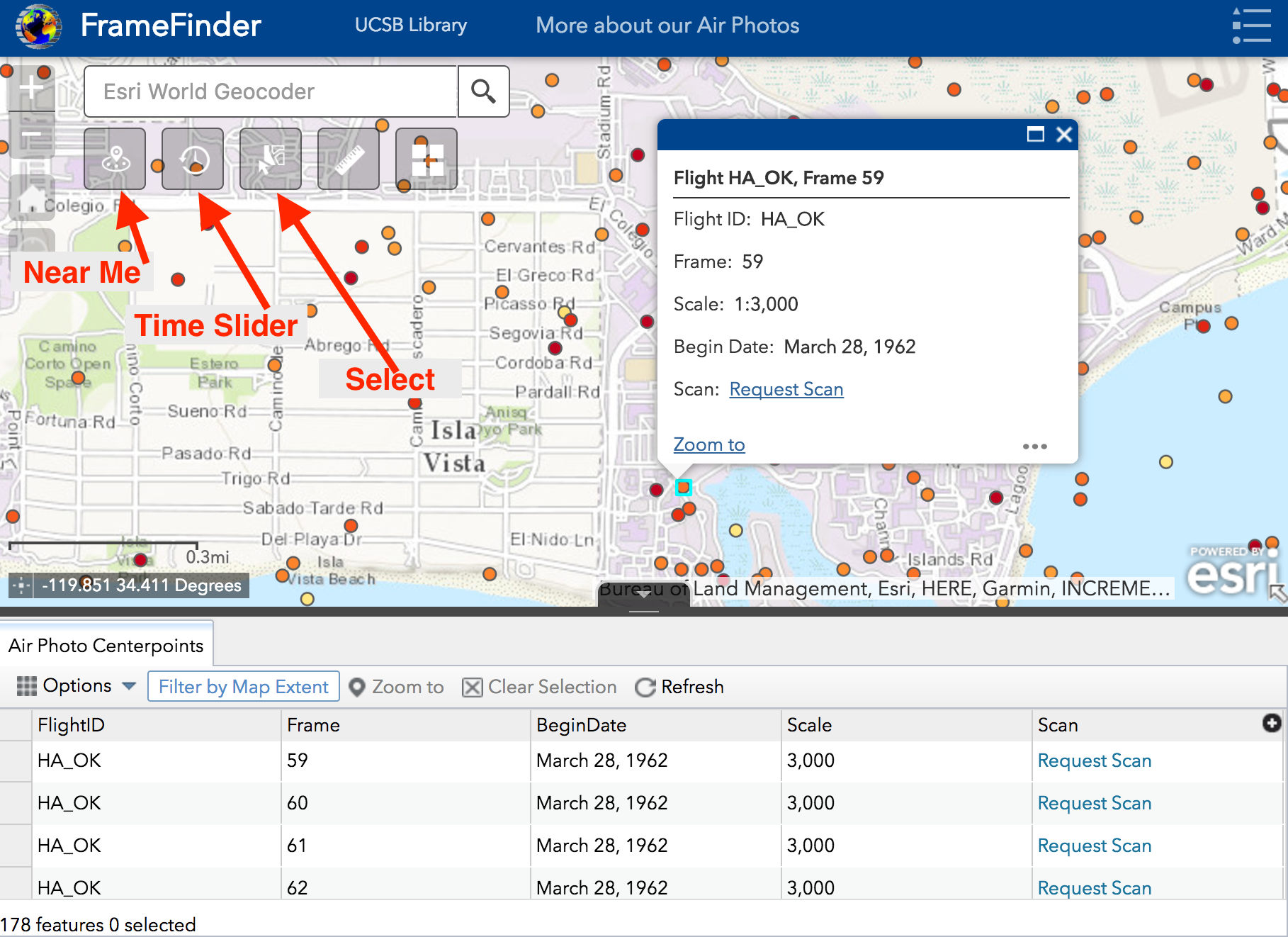 Click on any centerpoint to see metadata about the image and a link to download the full tiff.
Use the 'Select' tool to find all of the airphotos inside of an area you specify on the map

You can then view and sort your selection on a table

Use the 'Time Slider' tool to restrict the view to a date range. 
Use the 'Near Me' tool to find the airphotos closest to a point you click on the map.
We have a video orientation to using the FrameFinder.
Please note: only 15% of our photographs are scanned.
Aerial Photo (AP) Flights Catalog and Indexes
For flights that are not in FrameFinder (do not have individual image metadata), use one of the lists below from our AP Flights Catalog.  Each flight will have a catalog record and a Notes field describing the area covered.  To look at the catalog record, click on the Flight ID.  First check the Notes field to ensure that the flight covers your area.  Most catalog records will have JPEG or PDF flight indexes that will help you to identify relevant images for your project.  To learn more about indexes, see Reading Aerial Photography Indexes.
AP Flights Catalog may be accessed via any one of the following links. Choose the one that best suits your research needs.
Viewing Aerial Photos
If the catalog record says "Partially digital" or "All frames digital," you may browse AP Images to download aerial photographs that have been scanned. It may take a few minutes to load the directories.
If you find an image in our collection but there is no digital image available, you may request a scan for a fee.  For more information, see Aerial Photography Scanning.  To view hard copies of aerial photos in person before requesting a scan, email us at geospatial@library.ucsb.edu to make an appointment.
If you would like to view the images in person before requesting a scan or for research purposes please contact us at geospatial@library.ucsb.edu to make an appointment.