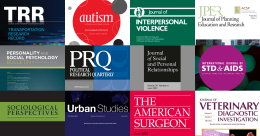 The University of California has entered into a two-year transformative open access agreement with SAGE Publishing. The agreement runs from January 1, 2022, to December 31, 2024, and covers open access publishing and reading access to SAGE's hybrid and fully open access journals. The agreement includes open access publishing of an unlimited number of articles by corresponding authors at all ten UC campuses and the Lawrence Berkeley National Laboratory and provides researchers throughout the UC system with expanded reading access to the full portfolio of SAGE journals.
SAGE is one of the largest publishers of UC research in the social sciences and humanities. Driven by the belief that social and behavioral science has the power to improve society, SAGE focuses on publishing impactful research, enabling robust research methodology, and producing high-quality educational resources that support instructors to prepare the citizens, policymakers, educators, and researchers of the future. SAGE publishes more than 1,000 journals and 600 new books globally each year, as well as library resources that include archives, data, case studies, video, and technologies for discovery, access, and engagement. 
"This agreement advances UC's goal to accelerate the shift to a more open, fair, transparent, and sustainable scholarly communication system," said Derjung Mimi Tarn, Professor of Family Medicine at the David Geffen School of Medicine at UCLA and chair of the UC Academic Senate Committee on Library and Scholarly Communication (UCOLASC). "This effort will advance the public mission of UC and its ongoing work to make the products of UC research and scholarship as freely and widely available as possible."
Under the agreement, the UC Libraries will contribute $1,000 to all article publishing fees (APCs) and will cover the costs in full where there is no available grant funding to pay the remainder of the APC, or when the APC is less than $1,000. UC authors will also receive a discount on open access publishing in SAGE journals. The agreement covers all hybrid journals via SAGE Choice and most of SAGE's fully 'gold' open access journals. The agreement also includes significantly expanding access to all journals in SAGE's 2022 Premier Journals Package. UC authors will publish open access using the SAGE Open Access Portal.
"This partnership will allow all UC researchers to increase their reach and provide extra support for those who don't have the funding to do so — a situation that is all too common in the social and behavioral sciences," said David Ross, SAGE's Vice President of Open Research. "We're committed to expanding open access opportunities for researchers and to doing it in a way that meets their own varied needs as well as the needs of the librarians who support them."
 An early driver of open access, SAGE was a founding member of the Open Access Scholarly Publishers Association (OASPA), as well as one of two publishing partners in the European Commission-funded FP7 Framework project, the Study of Open Access Publishing. Additionally, in 2011 SAGE launched SAGE Open, the first broad-spectrum open access journal aimed specifically at the social and behavioral sciences.
To learn more about SAGE's open access agreements, visit the SAGE Publishing website. 
To learn more about UC's open access publishing agreements, visit the UC Office of Scholarly Communication website or contact the UCSB Library Scholarly Communication Support Team at openaccess@library.ucsb.edu.
Journal cover images used with permission of the publisher.