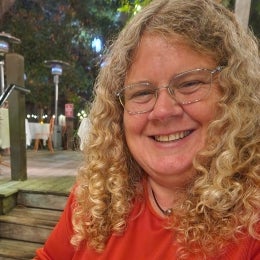 In celebration of Open Education Week (March 6-10, 2023), the UCSB Library is highlighting one continuing lecturer's experience incorporating an open educational resource (OER) into her courses. As the Library continues to deepen its commitment to an open paradigm for research and teaching, we want to support more faculty and lecturers who are interested in using OERs to help create a learning environment with fewer technical, financial, and copyright barriers.
Jennifer Johnson is a Continuing Lecturer in UCSB's Writing Program. She has been using Writing Spaces: Readings on Writing, an open access book series containing peer-reviewed collections of essays, in the classroom for more than a decade. The essays are composed by teachers of writing, many with decades of experience, and cover a wide range of topics pertaining to writing studies.
"It is a wonderful resource," Johnson said. "I am consistently impressed with the quality of the essays and it's nice to be able to choose among them and assign them as stand-alone texts."
Prior to assigning Writing Spaces in her Writing 1 and Writing 2 classes, students were required to purchase or rent an expensive textbook for each class, which created financial challenges for many of them. When Johnson recognized the impact of high and ever rising textbook costs on students, she switched to using an open educational resource (OER). In addition to being able to freely access Writing Spaces online, her students also appreciate the playful, accessible style of the essays, the range of topics the essays cover, the discussion questions, and other resources for both teachers and students to facilitate learning.
Writing Spaces has been successfully adopted by other instructors and TAs in the Writing Program for their classes. Johnson encourages instructors in other departments to incorporate OERs in their curricula as well.
"High textbook costs have a negative impact on student access and success. OERs provide students with access to high-quality information for free," she said. "Moreover, these resources are accessible online, which makes it simple to include them on our course management system or to call them up in class."
Johnson appreciates the Library's efforts to advance open access on campus by pointing faculty, lecturers, and students to OERs that meet their goals for teaching, research, and learning.
If you are a UCSB instructor interested in learning more about how the Library can support you in using OERs, please email librarian Angela Chikowero at achikowero@library.ucsb.edu.