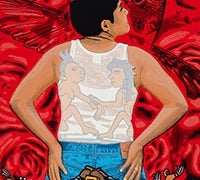 Latin American Art & Music Influences on California Culture
Event
The final event of Santa Barbara Public Library's National Hispanic Heritage Month will feature UCSB Library's Ryan Lynch, Latin American/Iberian Studies Librarian speaking on the art and music flows and conversations in the Americas, focusing on how they have influenced California culture.
The talk will be in the Central Library's Faulkner Gallery at 40 E Anapamu Street, Santa Barbara.
Drawing from the UCSB Library's fall exhibition Nuestras Américas: An Exploration of Expressive Cultures in Latina and Latino America (Sept. 10-Dec. 7), Lynch will lead attendees on a virtual gallery tour of the exhibition, including the pieces Libertad by Ester Hernandez and Rio, Por No Llorar by Alex Donis.
Lynch will share other materials from UCSB Library's collections as well.
For more information about events at SBPL in conjunction with National Hispanic Heritage Month, please click here.
Image credit: Chuparosa by Alma Lopez.