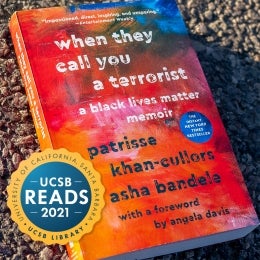 The UC Santa Barbara Library and the Office of the Executive Vice Chancellor are pleased to announce the selection of the 2021 UCSB Reads book, When They Call You a Terrorist: A Black Lives Matter Memoir by Patrisse Cullors and asha bandele.
Now in its 15th year, UCSB Reads continues to bring the campus and Santa Barbara communities together to read a common book that explores compelling issues of our time.
The 2021 selection, When They Call You a Terrorist, is a powerful memoir by the co-founder of the Black Lives Matter movement, which began in 2013 after the acquittal of the man who fatally shot Trayvon Martin, an unarmed 17-year-old high school student. The memoir describes Patrisse Cullors' experience as a Black, queer woman in the United States, who was raised in Los Angeles by a single mother. She recounts her experiences with racism in the criminal justice system, as well as the origins of the movement for racial justice that inspired an unprecedented number of protests across the country after the death of George Floyd.
The book powerfully demonstrates the connection between history, lived experience, and the necessity for present-day activism. It provides an intersectional analysis of the Black Lives Matter movement that will stimulate timely and important discussions with students, faculty, and the Santa Barbara community.
From January through May, the Library will sponsor virtual talks, panel discussions, film screenings, book clubs, exhibitions, and other events to explore the book's themes. On May 12, 2021, UCSB Reads will culminate with a free live virtual public lecture by Patrisse Cullors. Faculty are encouraged to incorporate When They Call You a Terrorist into their winter or spring courses. The Library will provide free electronic copies of the book to all students enrolled in these courses.
UCSB Reads is an award-winning campus-wide and community-wide "one book" program. The selection committee includes UCSB faculty, staff, students, and community partners who convene to select an intellectually stimulating, interdisciplinary book by a living author that appeals to a wide range of readers and can be incorporated into UCSB curriculum. UCSB Reads is presented by the University Library, the Office of the Executive Vice Chancellor and additional campus and community partners. 
If you are interested in sponsoring the UCSB Reads program, contact Heather Silva, Senior Director of Development at (805) 893-5732 or heathersilva@ucsb.edu.
For more information about UCSB Reads, or to participate in campus or community programming, contact Alex Regan, Events and Exhibitions Librarian, at aregan@ucsb.edu or write to ucsbreads@library.ucsb.edu
Click here to subscribe to our e-newsletter and have information about upcoming UCSB Reads events delivered directly to your inbox.
To suggest a UCSB Reads 2022 title please use our online form.  
UCSB Reads Books:
2021: When They Call You a Terrorist: A Black Lives Matter Memoir by Patrisse Cullors and asha bandele
2020: Rising: Dispatches from the New American Shore by Elizabeth Rush
2019: The Best We Could Do by Thi Bui
2018: Lab Girl by Hope Jahren
2017: Into the Beautiful North by Luis Alberto Urrea
2016: Just Mercy: A Story of Justice and Redemption by Bryan Stevenson
2015: Orange Is the New Black: My Year in a Women's Prison by Piper Kerman
2014: The Big Burn: Teddy Roosevelt and the Fire That Saved America by Timothy Egan
2013: Moonwalking With Einstein: The Art and Science of Remembering Everything by Joshua Foer
2012: Moby Duck: The True Story of 28,000 Bath Toys Lost at Sea, and of the Beachcombers, Oceanographers, Environmentalists, and Fools--Including the Author--Who Went in Search of Them by Donovan Hohn
2011: The Immortal Life of Henrietta Lacks by Rebecca Skloot
2010: Enrique's Journey by Sonia Nazario
2009: Ethics for the New Millennium by Dalai Lama
2008: The Travels of a T-shirt in the Global Economy by Pietra Rivoli
2007: Field Notes from a Catastrophe by Elizabeth Kolbert
UCSB Reads 2021 Advisory Committee:
| | | |
| --- | --- | --- |
| Rebecca | Baker | Graduate Student, English |
| Lupita | Barragan | UCSB Alumni |
| Ines D. | Casillas | Faculty, Chicana and Chicano Studies |
| Brian | Donnelly | Faculty, English |
| Jackson | Eddy | UCSB Undergraduate Student |
| Bergen | Forshay | UCSB Undergraduate Student |
| Allison | Gray | Director, Goleta Valley Public Library |
| Michelle | Grue | Faculty, College of Creative Studies and Writing Program |
| Emily | Jacobs | Faculty, Psychological & Brain Sciences |
| Aaron | Jones | Director, Educational Opportunity Program |
| Bruce  | Kendall | Faculty, Bren School |
| Dylan | Martinez | UCSB Undergraduate Student |
| Patrick | McCray | Faculty, History |
| Maria | Napoli | Community College Programs Manager, Center for Science and Engineering Partnerships |
| Erin | Nerstad | Associate Director, Interdisciplinary Humanities Center |
| Sharleen | O'Brien | Director, UCSB Health and Wellness |
| Caitlin | O'Hara | Senior Publicist, UCSB Arts & Lectures |
| Sameer | Pandya | Faculty, Asian-American Studies |
| Behrooz | Parhami | Faculty, Electrical and Computer Engineering |
| Kathy | Patterson | Faculty, Writing Program |
| David | Pellow | Faculty, Environmental Studies |
| Alex | Regan | UCSB Librarian |
|   |   |   |