The Grammy Museum Foundation issued a $10,000 grant to the UC Santa Barbara Library to preserve, digitize, and make accessible a portion of the groundbreaking radio broadcasts of the CBS Symphony conducted by Bernard Herrmann in the 1930s and 1940s. 
While Herrmann is known today as one of the preeminent film composers of the 20th century (with scores such as Psycho, Citizen Kane, and Taxi Driver), he originally began his career as a composer and symphonic conductor for radio. Recordings of these compositions, which make up the bulk of this collection, exemplify his innovative and progressive approach to the symphonic repertoire. He championed the work of Charles Ives, British composers Edward Elgar and Ralph Vaughan Williams, and American composers Robert Russell Bennett and William Grant Still. 135 radio broadcasts were donated to UCSB by his estate after Herrmann's death and document this important aspect of his career. It is the most comprehensive collection of Herrmann's work in the US.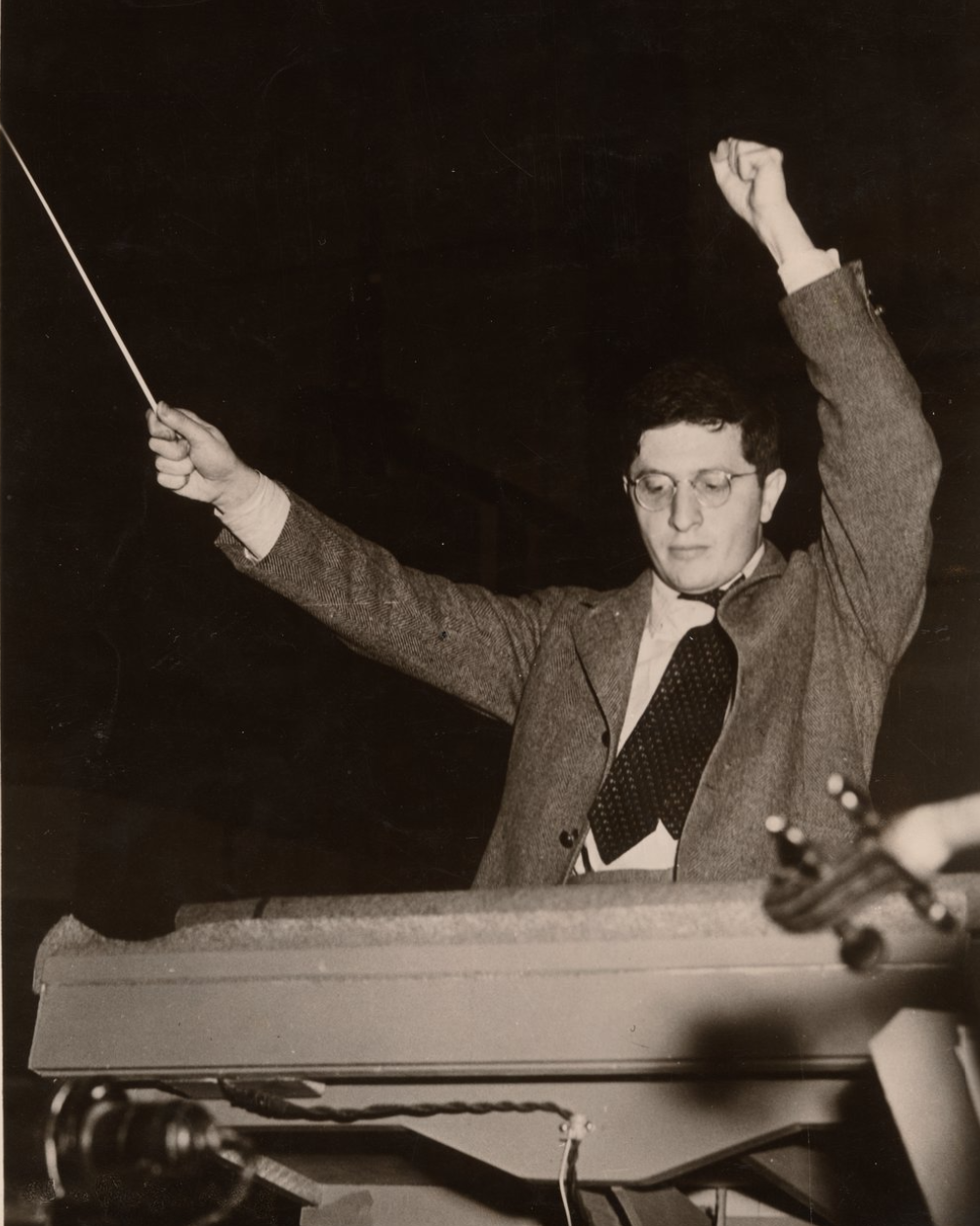 In 1933, a young Bernard Herrmann took a job as a composer at the Columbia Broadcasting System (CBS), a recently formed radio network. He was tasked with writing music for the Columbia Workshop radio programs but ultimately became the staff conductor at "The American School of the Air." In 1940, Hermann became the music director and conductor of the Columbia Symphony Orchestra, the orchestra organized by CBS Radio for the broadcast of orchestra music over the air. His compositions also included those for the Orson Welles' program War of the Worlds.
Due to the impermanent nature of radio broadcasts, Hermann's radio scores were not commercially recorded nor widely circulated. The airchecks included in this collection are the only recordings of this phase of Herrmann's career, which are only now being made publicly accessible through digitization efforts.
The recordings include aluminum- and glass-based lacquer discs that feature Herrmann conducting the CBS Symphony from the late 1930s until 1962. These discs are among the most at-risk audio formats for deterioration, making their digitization all the more urgent. 
With the support of the Grammy Museum Foundation, the University Library will be able to hire noted audio restoration engineer Nicholas Bergh of Endpoint Audio Labs to transfer and restore these fragile recordings to high-resolution digital files for public access.
Other Notable Grants in Support of Special Research Collections
In addition to receiving funding from the Grammy Museum Foundation, UCSB Special Research Collections has received nearly $170,000 in other notable grants this past year that will enable us to continue our work around preservation and digitization. 
Ahmanson Foundation Grant: American Radio Archives
This archive is one of the largest and most important collections on the history of radio broadcasting in the world. The UCSB Library was awarded $100,000 as part of a two year initiative to complete the cataloging and processing of the collection.

Council on Library and Information Resources Grant: Recordings at Risk Project
UCSB Library is one of 20 organizations that received a 2022 grant from the Council on Library and Information Resources (CLIR) in April for a Recordings at Risk project. Nearly $50,000 is now available for the project, "Preserving America's Radio Heritage: The Recordings of Variety Show Pioneer Rudy Vallée."

Albert & Elaine Borchard Foundation Grant: Marcel Nicolle Collection of Rare Art Exhibition Catalogs
The Albert & Elaine Borchard Foundation issued a $10,000 grant to the UCSB Library for the digitization of a portion of the Marcel Nicolle Collection, which consists of more than 1,000 rare 19th-century exhibition catalogs in Western European languages.

Latin Grammy Cultural Foundation Grant: Astor Piazzolla Materials
UCSB Library won one of two of its Preservation Grants of $5,000 to preserve and make more accessible documents and materials related to the life and career of Astor Piazzolla, a popular Argentine composer of tango and Latin American music. The Astor Piazzolla Materials are part of the Library's Edouard Pecourt Collection, housed in the Performing Arts Collection of UCSB Library's Special Research Collections.

California Humanities Grant: Santa Barbara Community Archiving and Home Movie Days
"Santa Barbara Community Archiving and Home Movie Days" is a project developed by the University of  California, Santa Barbara Library in collaboration with Santa Barbara Public Library. The project focuses on Santa Barbara's historically Latinx Eastside neighborhood in an effort to enrich the historical record through reflection and storytelling via digitization of home videos and family photographs.
Photos:
The Grammy Museum Foundation logo.
Bernard Hermann conducting Devil and Daniel Webster, Spring 1941. Credit: Bernard Herrmann Papers, Department of Special Research Collections, UC Santa Barbara Library, University of California, Santa Barbara.