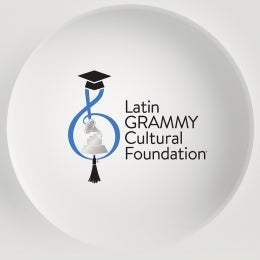 The Latin GRAMMY Cultural Foundation announced last week that UCSB Library won one of two of its Preservation Grants to preserve and make more accessible documents and materials related to the life and career of Astor Piazzolla, a popular Argentine composer of tango and Latin American music.
The Astor Piazzolla Materials are part of the Library's Edouard Pecourt Collection, housed in the Performing Arts Collection of UCSB Library's Special Research Collections.
The materials include open-reel tapes, audio cassettes, videos, manuscripts, photographs, and other ephemera as well as correspondence between Piazzolla and Pecourt, a Parisian record dealer and collector and personal friend of Piazzolla.
The funds will be used to hire Pablo Aslan, a Grammy Award-winning musician and composer and expert in Argentine music, to evaluate and organize the collection and help prioritize items for public access and digitization. Performing Arts Curator David Seubert is Principal Investigator for the grant.
The Preservation Grant comes at a significant time as the world celebrates the centenary of Piazzolla's birth in 1921. This anniversary has drawn the attention of performers and audiences around the world, with tribute concerts and recordings, documentaries, and exhibitions taking place in cities from Buenos Aires to Trondheim, Seoul, and Houston. 
Piazzolla is known for his experimentation with the sound and structure of tango. He created nuevo tango, a new form of tango that blended elements of jazz and classical music. Piazzolla also incorporated instruments that were not traditionally used in the genre, such as the saxophone, electric guitar, and drums, in addition to other electronic instruments.
Because his music influenced a new generation of tango composers, it is important that this collection be made more accessible to researchers and provide a broader context of Piazzolla's work and 20th-century Latin American music.
Winners of the Latin GRAMMY Cultural Foundation grants were selected by a committee of experts from Latin America, the Iberian Peninsula, and the United States. The Latin GRAMMY Cultural Foundation is a charitable organization established by The Latin Recording Academy in 2014 to further international awareness and appreciation of the significant contributions of Latin music and its makers to the world's culture.
View the full press release announcing all winners here.