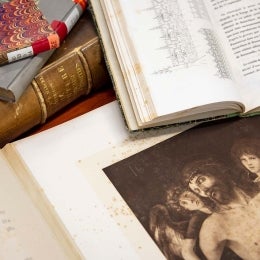 The Albert and Elaine Borchard Foundation issued a $10,000 grant to the UC Santa Barbara Library for the digitization of a portion of the Marcel Nicolle Collection, which consists of more than 1,000 rare 19th-century exhibition catalogs in Western European languages, mostly French. 
The materials are primarily housed in the Library's Art & Architecture collection and were amassed by Marcel Nicolle (1871-1934), a French journalist, art critic, and museum curator who worked at the Lille museum and the Louvre museum around the turn of the 20th century.  
Acquired by UCSB in the 1990s, the materials are aging. Some of the oldest items date back to the 16th century. Moreover, it is critical that they are preserved as about 11 percent of the catalogs are unique to the UCSB Library and not held at any other institution. 
Digitization will help mitigate further damage to the objects by decreasing physical handling and will also help broaden research access to these frequently requested materials. It also provides opportunities for text mining and other forms of digital scholarship on the collection.
Exhibition catalogs are important for Art History research as they provide documentation of all the items displayed in a show at a museum or art gallery and they contain essays from curators and academics. Additionally, these primary sources are critical to researchers as they provide a first-hand perspective from people closest to the art shows. 
The grant will allow the Library to hire and train students to assist with the digitization of these materials. We estimate that the digitized catalogs will be accessible near the start of the 2022-23 academic year.