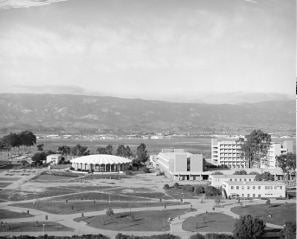 The Department of Special Research Collections at UCSB Library houses the permanent University Archives collection. The University Archives is the official repository for many university records, including administrative and departmental offices, student programs, and faculty and administrators' papers. The University Archives holds a large number of university publications, including administrative, departmental, and student published serials. Official university records of enduring value and other materials from multiple sources document the development of the institution that once began from a small "normal" school, an institution that trains high school graduates to be teachers, to the large state university it is today. 
History
The institution that would become the University of California, Santa Barbara began with the Anna S. C. Blake Manual Training School.  Located in the city of Santa Barbara, the school taught home economics skills (sewing, cooking, etc.) and Sloyd (a Scandinavian system of handicraft education).  The city school became a state school in the early 1900s, focusing on teacher education and home economics, and was moved to Santa Barbara's Riviera area to accommodate more students.  In the 1930s, the state college expanded its curriculum to become a liberal arts college.  The University of California system took on administration of the college in the 1940s, and some classes were expanded to buildings on the Santa Barbara Mesa.  In 1954, the college moved to its current location in the Goleta area on the site of a former Marine base.  It was not until the late 1950s that the Santa Barbara College was made an official campus of the University of California system.  Today the University is home to five colleges, offers more than 200 majors, degrees and credentials, and in 2012 had an enrollment of over 21,000 students with a faculty of almost 1,000.
Notable Material
The Associated Students Subject Files contain reports, clippings, correspondence, flyers, and other documents relating to student, university, and community issues.  The UCSB Office of Public Information Subject Files contain clippings, press releases, photographs, some correspondence and other materials relating to UCSB faculty, staff, administrators, and other prominent individuals associated with the university. The UCSB History and Antecedents Collection is arranged generally in chronological order and by subjects. It outlines the antecedent institutions, important figures in UCSB history, previous campuses, events and much more.
Other Holdings
The University Archives are organized in general subject areas to separate the various departments, colleges, offices of both faculty and student materials. To view the collections in the following subjects visit the UArch manuscripts page.
Affiliated & Student Organizations.
Dissertations and Theses
Faculty, Administrators, and Staff Papers.
Official Records of the University.

Departments, Offices, Institutes, Programs & Committees
Public Information and Public Affairs, Campus Physical Facilities, UC Systemwide Papers.
UCSB Colleges & Libraries
Additional Resources
For more detailed information on materials in the University Archives, contact the University Archivist Matt Stahl at mstahl@ucsb.edu.