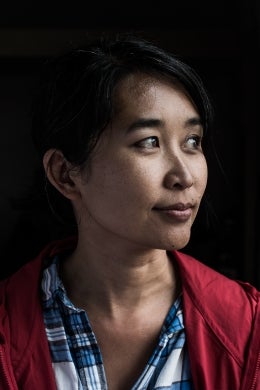 What Thi Bui first set out to do was to turn a graduate school oral history project into something more accessible outside academia. Safe to say: she succeeded wildly.
That oral history became the basis for "The Best We Could Do," Bui's illustrated memoir documenting her family's escape from Vietnam in the 1970s and the difficulties they faced building new lives in America. It received widespread critical and popular acclaim, winning a 2018 American Book Award, named a finalist for 2017 National Book Critics Circle and Eisner awards and landing on a host of "Best Of" lists.
"The material was so amazing, I wanted to find a medium to share it with the general public. I started reading graphic novels and thought, 'Whoa, this could be it,'" said Bui, who taught herself to draw comics expressly for this book. "I learned on my own and I did it on the side while I was a high school teacher and raising my son. He was a newborn when I started drawing it, and he was 10 or 11 when I finished."
Bui will give a free, public talk Thursday, April 25, at UC Santa Barbara, where "The Best We Could Do" is the current selection for UCSB Reads, a community-wide initiative featuring myriad events and activities each year focused on one book. Her appearance, at 7:30 p.m. in the campus's Campbell Hall, culminates the 2019 program.
Excerpted from an article by Shelly Leachman which appears in full in UCSB's The Current.