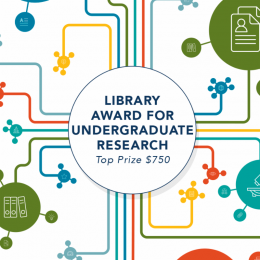 On June 3, the Library celebrated the six students who received the third annual UCSB Library Award for Undergraduate Research (LAUR), which recognizes students who produce a scholarly or creative work that makes expert and sophisticated use of the collections, resources, and services of the UCSB Library.
The awards were highly competitive this year, with more applications received than ever before. 
To be eligible for this award, students had to submit not only a final research or creative project, but also a bibliography and a reflective essay describing their research process. 
The judges looked for how the students described their search strategies, evaluated sources, persevered through research obstacles, and demonstrated growth in their knowledge about Library resources. Additionally, faculty members submitted letters in support of our student applicants.
This year's LAUR program was sponsored by a generous supporter, Naomi Greene.
First- and second-place recipients in each of the three broad categories receive $750 (1st place) and $500 (2nd place).
2021 Library Award for Undergraduate Research Winners
Humanities & Fine Arts
1st Place - Noelle Barr
Senior | Majors: Music Studies and History of Art & Architecture
Reinterpreting Gendered Spaces of Modernity in the Portraits of a Violinist
2nd Place - Stephanie Ando
Senior | Majors: History of Art & Architecture and Political Science
New Japanese Photography (1974): An Introduction to Postwar Japanese Photography
Social Sciences
1st Place - Samantha Ellman
Senior | Major: Environmental Studies
The Pedestrianization of State Street and its Effect on Greenhouse Gas Emissions
2nd Place - Frances Woo
Senior | Major: Sociology
United Front Article - Living History Project
Science & Engineering 
1st Place - Yilin Cao
Junior | Major: Chemistry
Avoid Relying on Hazardous Organic Solvents for your Organic Reactions: Water as the Reactive Medium
2nd Place - Ziguang Yang
Junior | Major: Chemistry
Literature Review of Gold Catalyzed Ring Enlargement
View the recording of the ceremony: