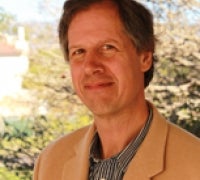 Who Gets to Drink? The Past, Present and Future of Drinking Water
Event
Location:
Pacific View Room
UCSB Library presents a talk by James Salzman (Bren School) to be followed by a public reception.
Conflicts over drinking water highlight the most pressing issues of our time -- from social justice and globalization to climate change and emerging contaminants. Ensuring provision of safe drinking water has always been one of society's most important challenges and remains highly controversial around the globe. The United Nations has declared a Human Right to Water but what does that really mean? Who gets to drink in times of scarcity? How can access to clean water be provided in developing countries, and what is the role of corporations when the public sector has failed?
Jim Salzman is the Donald Bren Distinguished Professor of Environmental Law with joint appointments at the Bren School and UCLA Law School. In 9 books and more than 90 articles and book chapters, his broad-ranging scholarship has addressed topics spanning drinking water, trade and environment conflicts, policy instrument design, and the legal and institutional issues in creating markets for ecosystem services.
The Pacific Views: Library Speaker Series is co-sponsored by the Office of the Executive Vice Chancellor.