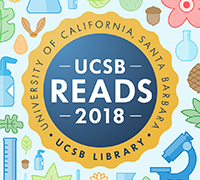 Lab Girl Book Group
Thu, 03/01/2018 - 12:00pm
Event
Location:
Other, on-campus
Open to all UCSB students, staff and faculty.
Location: Student Affairs & Administrative Services Building, 2nd Floor SIS&T Conference Room). Book group meets on three Thursdays during the winter quarter.  Feel free to come to any and all of the three dates: February 1, February 15, & March 1.
For more information, contact Sharon Solis at sharon.solis@sa.ucsb.edu or x4958.