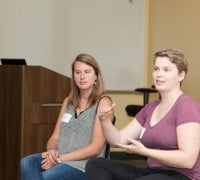 Wed, 09/06/2017 - 12:00pm
Event
Location:
Instruction & Training 1312
Lunch & Learn is a monthly informal seminar series that provides grad students with ​two important things: free lunch and a chance to socialize with and learn from their peers from across the campus.
The series is co-sponsored by the Graduate Division, the Graduate Student Association, and the Library, and ​each event features 15-minute talks by two graduate students – one from a STEM discipline (Science, Technology, Engineering, and Mathematics) and one from a SHEF discipline (Social Science, Humanities, Education, and Fine Arts).
However, unlike traditional seminars and lectures, Lunch & Learn encourages speakers to communicate their topic in whatever way they feel most comfortable, welcoming anything from PowerPoint slides to fireside chats to hands-on demonstrations.
To help us estimate food, we ask attendees to RSVP ahead of time for each event. But we invite everyone to attend even if you're not able to RSVP!