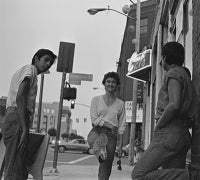 Vexed: the East L.A. Chicano Punk Scene
Mon, 09/10/2018 - 8:00am

to

Fri, 12/07/2018 - 5:00pm
Exhibition
Location:
Ocean Gallery
Not long after the punk scene exploded in New York City in the mid-1970s, young Chicanas and Chicanos in the greater Eastside of Los Angeles began adopting the D-I-Y (do it yourself) punk aesthetic. They expressed their own anger, discontent, and feelings of marginalization through its frenzied musical style and biting social commentary.  
Early Chicano punk bands, or punkeros, embraced the punk rock energy and political edge to draw attention to historic and contemporary injustices. 
Chicanos in East LA used Club Vex (located on the 2nd floor of the original Self-Help Graphics & Art building) as an incubator of punk. The Vex featured local punk bands like "Los Illegals," the "Brat," and the "Plugz."  
The bands inspired a generation of Chicano rockers to sing about the plight of the Chicano in a new tone—a punk register of raw energy, oppositional politics, and bleak outlooks.
These bands are vividly remembered as pioneers of Chicano punk, agitators of convention, and brutally honest social commentators.
These photographs are part of the larger exhibition, Nuestras Américas: An Exploration of Expressive Cultures in Latina and Latino America, which examines how people of Latin American descent create a sense of space and belonging in the U.S. through visual and musical expressions. Nuestras Américas is on display in UCSB Library's Special Research Collections (Third Floor, Mountain Side) from September 10 through December 7, 2018.
Image caption:
Sean Carrillo, Janet Carrol and Tito Larriva at the Atomic Café
Photographed by Daniel Villarreal, 1980
In the Chicano Punk Rock Collection, California Ethnic and Multicultural Archives,
Special Research Collections, UCSB Library