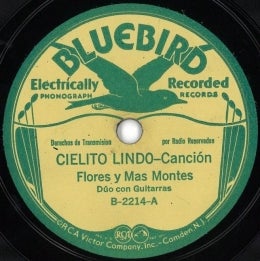 Thousands of historic sound recordings held by UCSB Library will soon be freely accessible online thanks to a prestigious $349,000 grant from the National Endowment for the Humanities.
"Tens of thousands of recordings that never made it to CDs or digital services line the shelves of public archives, unheard," said David Seubert, curator for UCSB Library's Performing Arts Collection and project director for the newly announced NEH grant. "We're working to change that."
The grant will support the expansion of the Discography of American Historical Recordings online database through the creation of 14,000 discographic records of recording sessions produced by Victor and Bluebird record labels as well as the digitization of 8,500 recordings made between 1925 and 1948. 
"This will bring decades of little-known recordings to the public's attention, from the era that is arguably one of the most creative and influential in American music," said Seubert.
The Discography of American Historical Recordings is a publicly accessible database that presently documents the activities of nine major American record companies between 1894 and 1973: Victor, Columbia, OKeh, Berliner, Edison, Zonophone, Leeds & Catlin, Brunswick, and Decca. It is the largest online database documenting sound recordings of the standard groove era (before 1955) with data on over 310,000 masters, or original recordings. 
The NEH grant-funded work on additional recordings will document the maturation of American popular song and the development of jazz, country, ethnic, and blues music for both scholarship and public enjoyment. 
Prior support from the NEH and the Packard Humanities Institute has funded the creation of portions of this online discography -- widely recognized as the standard reference work in the field -- as well as the digitization of thousands of early Victor, Columbia, and Edison disc recordings which are now available free, online. 
Through partnerships with the Library of Congress, Sony Music Entertainment, the Arhoolie Foundation, and other archives, DAHR presently provides curated access to over 40,000 recordings from UCSB Library and other collections.
View the April 7 NEH grant announcement here.