In early September 2021, California poet Michael Hannon donated materials surrounding his life's works to the UC Santa Barbara Library Special Research Collections. Inspired by reflections on religion, philosophy, mortality, and the impermanence of life, Hannon's poetic journey began in 1960, toward the end of the Beat Generation when New American poetry came to the fore. The acquisition is a notable addition to the Library's growing literary collection.
Originally from San Luis Obispo, Hannon's first poems dated from 1960 just after he was stationed in Biloxi, Mississippi with the Air Force. Frequently lured to nearby New Orleans, it was there he met his first "muse" and fell in love, setting the stage for a lifetime dedicated to creating poetry. While the affair didn't last, a passion for poetry followed him back to the California coast.
"It's a mystery to me how it happened," Hannon commented, reflecting on how little he'd known about poetry when getting started. "In the beginning, I was copying everyone else's style, and I was very influenced by Donald Allen's Anthology of the New American Poetry."
Hannon enrolled at California Polytechnic State University (Cal Poly) shortly after returning to San Luis Obispo, intent on studying English and poetry. At his first English class, he met Professor Alvin Foote, who Hannon described as his "anti-mentor".
"By this time I had been writing for a couple of years," Hannon explained, "and I had no idea what I was doing. I brought Alvin my work, and he said, 'I read your poems, and I want to tell you that this is the real thing, and what you need to do is get as far away from these universities as you possibly can.' I felt that he was right. I did not want to study poetry; I wanted to practice it."
He found several sources of influence on his style, including that of California poet Robinson Jeffers; poets Conrad Aiken, Malcolm Lowry, and D.H. Lawrence; and Modernist poet T.S. Eliot. He also found inspiration in foreign poetry, particularly that of German expressionist poets leading up to World War II, the content of which he believes is still very relevant today. Later in his "un-career", Hannon has been strongly influenced by Chinese and Japanese poets.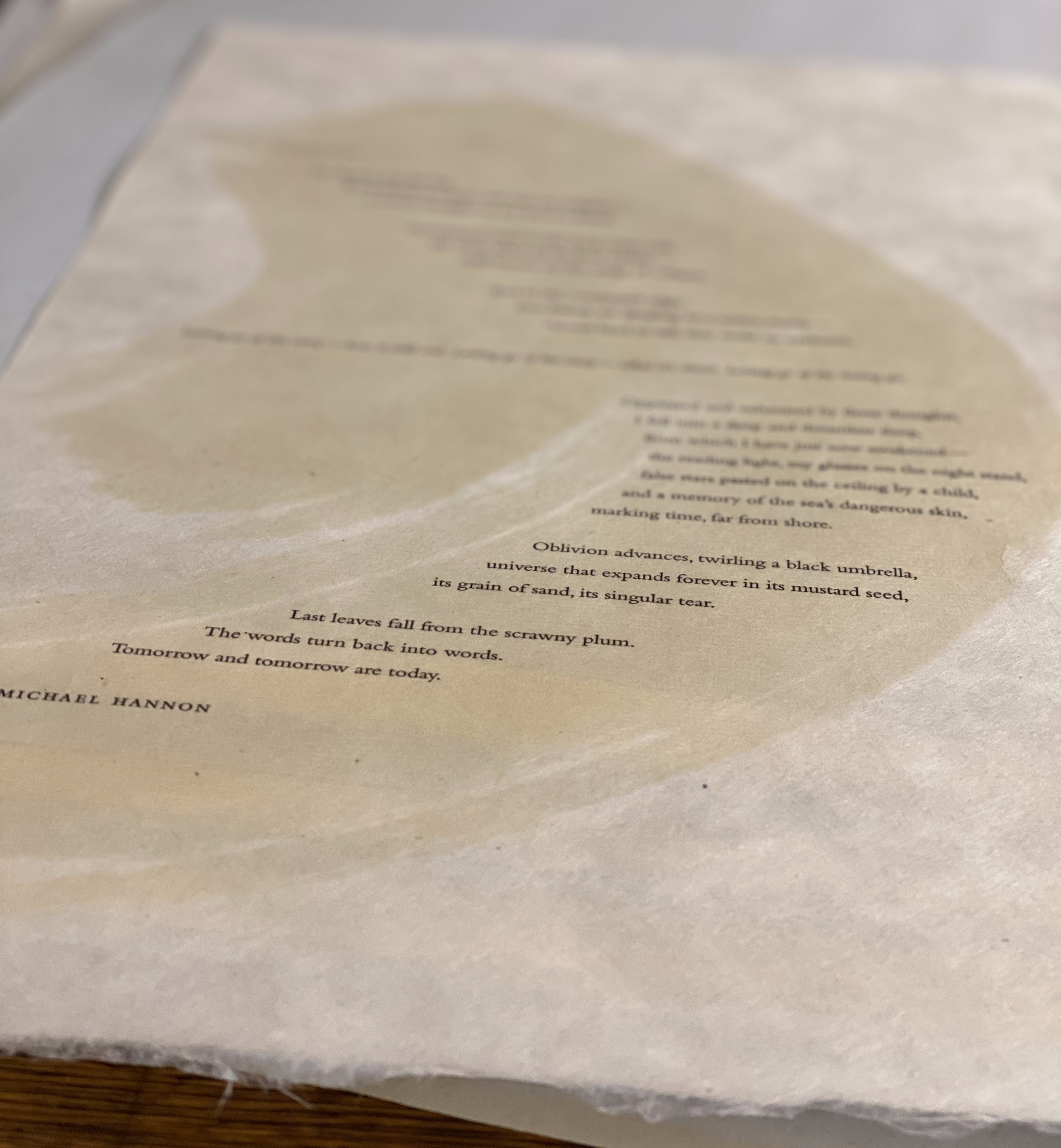 Hannon began a second phase of writing poetry in 1975 after moving back to San Luis Obispo from LA and began a position in the local library where he met his wife Nancy Dahl. Originally an English major, Dahl received her RN degree and worked as a nurse within the pediatric, labor and delivery, and neonatal units.
Upon meeting Hannon, she was inspired to re-enter the literary realm, eventually deciding to pursue her own letterpress printing business in 1986, Blue Earth Press. "It fulfilled the need to turn poems into sculpture," she explained.
During this time, Hannon began to develop a budding relationship with letterpress and art book printers, especially after publishing his first letterpress chapbook, a short collection of poems, titled Solar Fur in 1972. It was an opportunity to combine his poetry with visual art, and led him to partnerships-turned-friendships with several printers and artists. 
One of these friendships developed with UCSB College of Creative Studies Faculty Emeritus Harry Reese, who created Turkey Press and Edition Reese limited presses located in Isla Vista with his wife and co-creator Sandra Liddell Reese.
Reese first came across Hannon's work after reading his poem The Sea Gazer, printed in San Francisco's City Lights Journal in 1966.
As Reese mentions in a 2018 speech dedicated to Hannon, "I was so moved by his words that I had to stand up when I first read that poem aloud to [Sandra]. As I read more of his work, I felt that I finally had met a poet… whose ideas, language, and character completely demanded, and rewarded, my attention."
The Reeses first published Hannon's poetry in 1978 in the book Ship Without Paper, and went on to publish more books, broadsides, and cards that feature his work.
One of these publications, Venerations & Fables, led to another serendipitous meeting with the artist who would become a primary collaborator and friend to Hannon, William Wiley.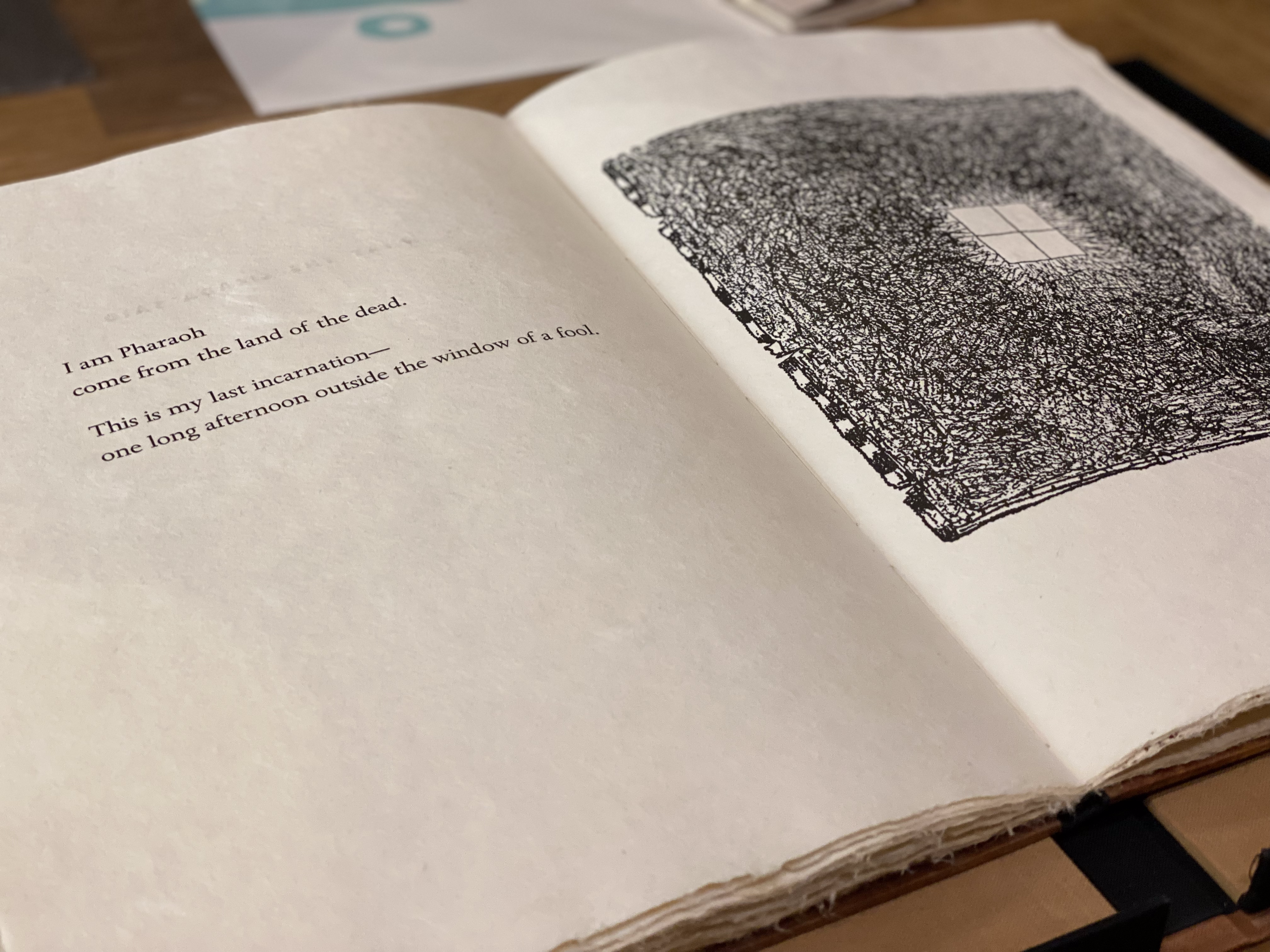 Venerations & Fables was a very philosophical book that used animals and animal voices in a series of short poems. Hannon's poet friend Bill Witherup convinced him to send a copy to William Wiley, who then asked to meet with Hannon. It coalesced into a decades-long partnership and friendship, where Hannon would write a poem and Wiley would create artwork in response to it. They called this their "cross-pollination". A new version of the initial publication, this one retitled Fables, was printed with Hannon and Wiley's work side by side.
"With Wiley, we never considered it illustrating," Hannon explained. "It was just his response to the poem." William Wiley recently passed away in 2020. Pieces of his own artwork as well as his collaboration with Hannon are housed at the Smithsonian's American Art Museum. 
Hannon also collaborated with other local book artists and printers, notably Mary Heebner of Simplemente Maria Press and Carolee Campbell of Ninja Press, both of whom—along with the Reeses—have donated materials to the Library.
Heebner first met Hannon in 2000 at her exhibition Bridging Time at Cuesta College. Their friendship developed over his many visits to her studio, and she eventually published a series of his poems and her paintings in the book Seeking the Open Heart.
"For months, I struggled to find imagery to illustrate his words, and finally abandoned that tactic," Heebner commented. "More in keeping with my process, I made some free-form images on handmade paper. Rather than making literal illustrations, I regard my images as pairings to his poetry." Both Heebner and the Reeses also created imagery in response to his poem The Good Marriage.
When asked how his style of poetry has developed throughout the years, Hannon reflected that it has remained fairly consistent. "I'm a minimalist," he explained. "I'll write a poem that's twelve lines long and eight have to go."
A friend once described Hannon's work as "philosophy disguised as poetry." Hannon expressed his desire that his poetry be connected through certain themes in each book, encompassing his thoughts on religion, philosophy, the impermanence of life, and his own mortality.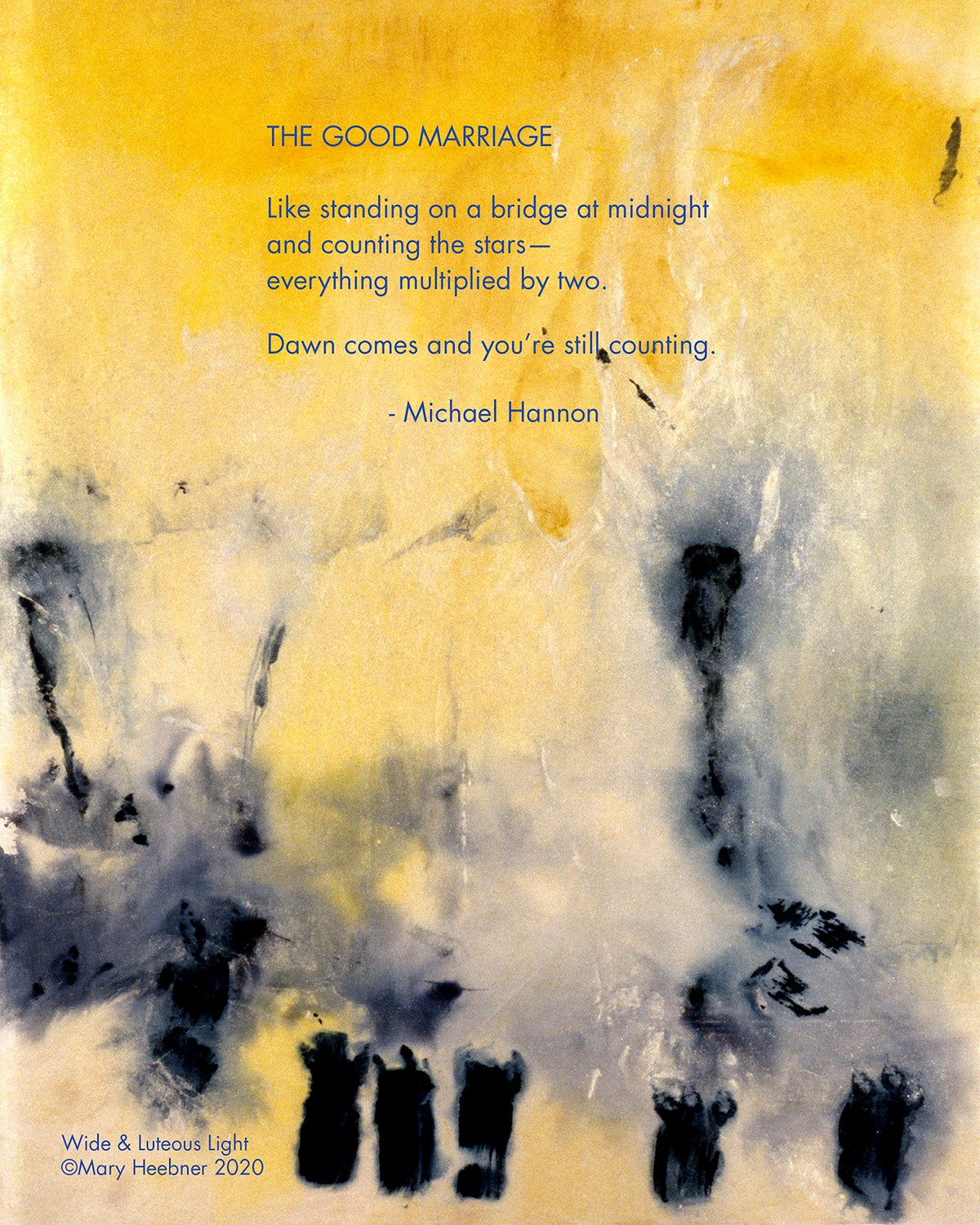 "My poetry has often been concerned with the dark side of things, but in working with it for over fifty years, I have become a happy man. You come to the light by way of the dark. I was saved because I had a good sense of humor. Here's a line from one of my poems: Sometimes I think I love my stupid little life."
In November 2018, Cal Poly Special Collections Librarian Jessica Holada designed and presented a retrospective of Hannon's work and collaborations through the event "Pilgrim's Process." It ultimately led Hannon to cultivate the idea of creating an archive to preserve his work, an initiative that—at the urging of Heebner—resulted in the creation of the "Michael Hannon California Poet and Literary Papers" at UC Santa Barbara's Special Research Collections.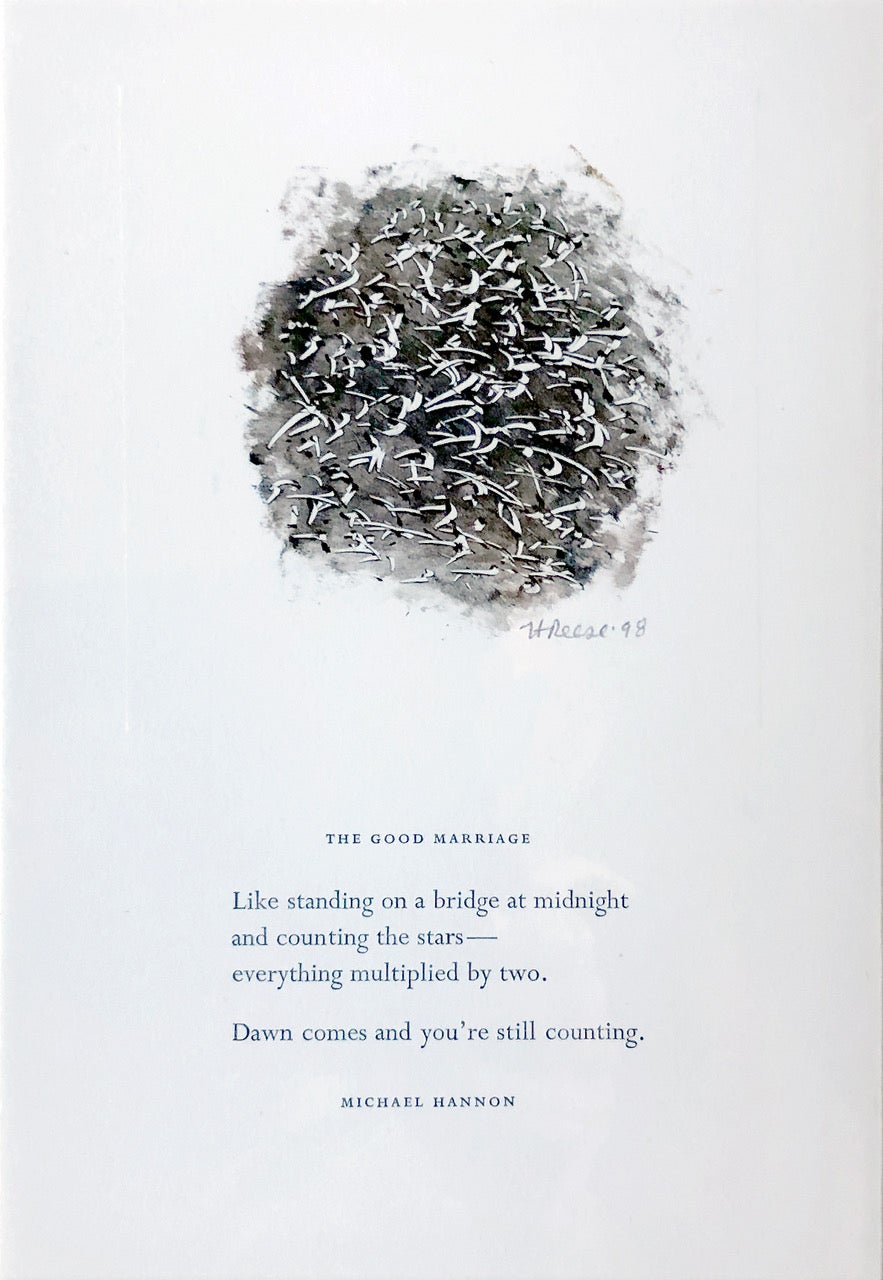 Hannon's "un-career" has produced numerous limited edition artist books, chapbooks, broadsides, and more that are included in his archive. It also includes what he describes as "negative evidence," or works that were intended to be published, but did not reach past the proofing phase into fully-bound books. Original and photocopied etchings are included, along with personal correspondence with his artistic collaborators and even a book that he and Nancy printed together, The Autumn Poet. 
"This is a major gift to UCSB and a major California poet collection," commented Danelle Moon, UC Santa Barbara Library's Director of Special Research Collections. "His collection is a wonderful addition to our growing literary collection that includes Greg Orfelea, John Ridland, Christopher Lancanno, Kenneth Rexroth, William Everson, and more." 
Hannon's vision for the collection's use is twofold: as a potential research source regarding the poetry generation that came after the Beat and New American poetry generations and inspiring undergraduate students with primary source materials relating to poetry. 
Today, Hannon continues to write, and he has a new book Idiot Wind, published by Hoopsnake Press, which contains a single poem in eleven parts intended as his reflection on current events.  
Entering his 83rd year, Michael Hannon might well be called an Autumn Poet. His book The Autumn Poet was published by his wife, Nancy Dahl--Blue Earth Press, in 1986. It is presented here as an example of Hannon's minimalist style:
The Autumn Poet
a sky of rags
crosses the moon
pine needles
snap underfoot
a cone falls
into the lake
growing older
settles nothing
all these years
working with words
the sound of waves
Images:
Poet Michael Hannon.

Millennial, printed by Turkey Press and Reese Edition. Credit: Madeline Shaffer.

What the Cicada Said, a poem in Fables, printed by Turkey Press and Reese Edition. Artwork by William Wiley. Credit: Madeline Shaffer.

The Good Marriage, artwork and print by Simplemente Maria Press. Credit: Mary Heebner.

The Good Marriage, artwork and print by Turkey Press and Reese Edition. Credit: Mary Heebner.