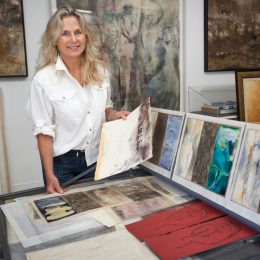 Art power couple Mary Heebner and Macduff Everton have been long-time contributors to Santa Barbara's creative economy. Over the last 30 years, their travels around the world have been the source of inspiration for photojournalism, visual anthropology, papermaking, painting, published books, and more, many examples of which are currently represented in the archives of the UCSB Library's Special Research Collections (SRC).
Both alumni of the UCSB College of Creative Studies, Heebner ('73) and Everton ('81) are inquisitive and multi-talented individuals whose commitment to the Library is long-standing. 
Heebner's father Walter Heebner built a career as a professional musician, composer, songwriter, and artists & repertoire executive at RCA Records and Capitol Records, and reached a plateau when he was given the opportunity to transcribe a collection of 170 piano rolls from Edwin Welte, created when Welte invited prominent composers of the 19th and early 20th century to perform.
In what is a true precursor to the recording devices of the future, their work was reproduced via his invention of a playback mechanism, the Vorsetzer, it became possible to reproduce the music once played by a pianist as close to the original sound as possible. Mr. Heebner's experience recording pianists including Leopold Stokowski, Andre Previn, Arthur Rubenstein, and Count Basie, was critical to knowledgeably transcribing these fragile rolls onto analog tape and LP records. 
UCSB's former beloved music librarian Martin Silver was one of the early enthusiasts for Walter Heebner's "Great Composers" series of recordings, and through their friendship, Mr. Heebner insisted Mary attend UCSB. Years later, it seemed only fitting to Heebner that her father's legacy is housed in the archives of recorded sound in SRC. Her mentor, artist William Dole, whose delicate collages and drawings are in numerous collections including the Hirshhorn, and SBMA museums, also has his archive at SRC.
For Everton and Heebner, donating pieces from their lives' work as an artist couple was a "no brainer." 
"Because our life's work is distinct but also beautifully intertwined, it seemed natural to envision this as a shared enterprise, and it made sense for the archive to go to UCSB," she says. "We appreciate the fact that the materials are actually used and accessed at this campus for teaching, research, and for pleasure." 
Twenty-five years ago, Heebner created her own imprint, Simplemente Maria Press, and has produced over 20 limited edition fine book art projects. As she was spending over 150-200 days a year traveling on assignments with Everton, she turned to writing articles for magazines to accompany his photographs, and sketching, and found that the logical step was to combine word with image in a book format. For one exhibit, A Sense of Place, in 2003 at UCSB's College of Creative Studies, Heebner focused on three geographies; the American West, Ayutthaya, and Thailand, as well as the actual cave at Lascaux in France, where she was invited to visit twice by France's Minister of Culture.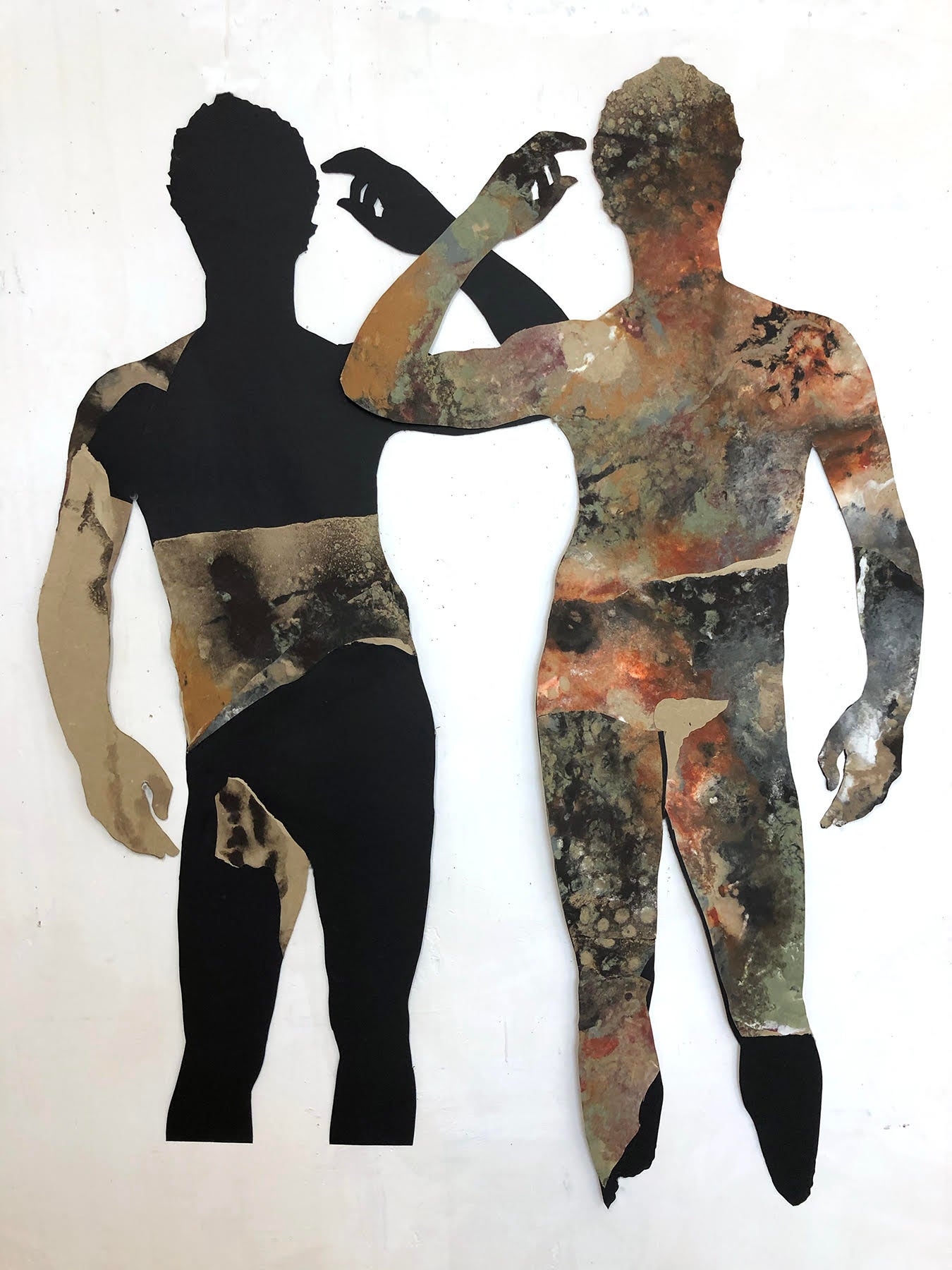 She created distinct installations that included a gobo-light projection of the map of Lascaux on the floor, hanging 15' scroll panels from Bodhisattvas at Ayutthaya series, a mural, Canyon, from Western Trilogy II, each installation combined with the artist's book that was born from them: Western Trilogy; Full Lotus; and Scratching the Surface. Each series was a meditation on place, an effort at translation and empathy joining image and word.
A 2001 series, Geography of a Face, likened fragments of a human face, as carved in stone to topographic form. Ten years later, this became the basis for a book, Silent Faces/ Angkor, that combines three iterations of a book: scroll, accordion fold, and codex.
"Our faces are landscapes and landscapes are portraits. " she explains, "This exploration of other ways of being in the world is not appropriation, rather it is an effort to create bridges beyond time, language, beliefs, and geographies, in order to make connections that are genuine and empathic."
On occasion, Heebner works with the poems of others, such as a collaboration with poet and translator Alastair Reid in 1999-2000 to create On the Blue Shore of Silence: Poems of the Sea by Pablo Neruda, which includes an afterword by Antonio Skármeta.
A copy of the book was presented to Fundación Neruda at Isla Negra, and again at Santiago, Chile during ChilePoesía, a celebration initiated by Patricia Cepeda, the wife of US Ambassador John O'Leary and daughter of Alvaro Samudio Cepeda.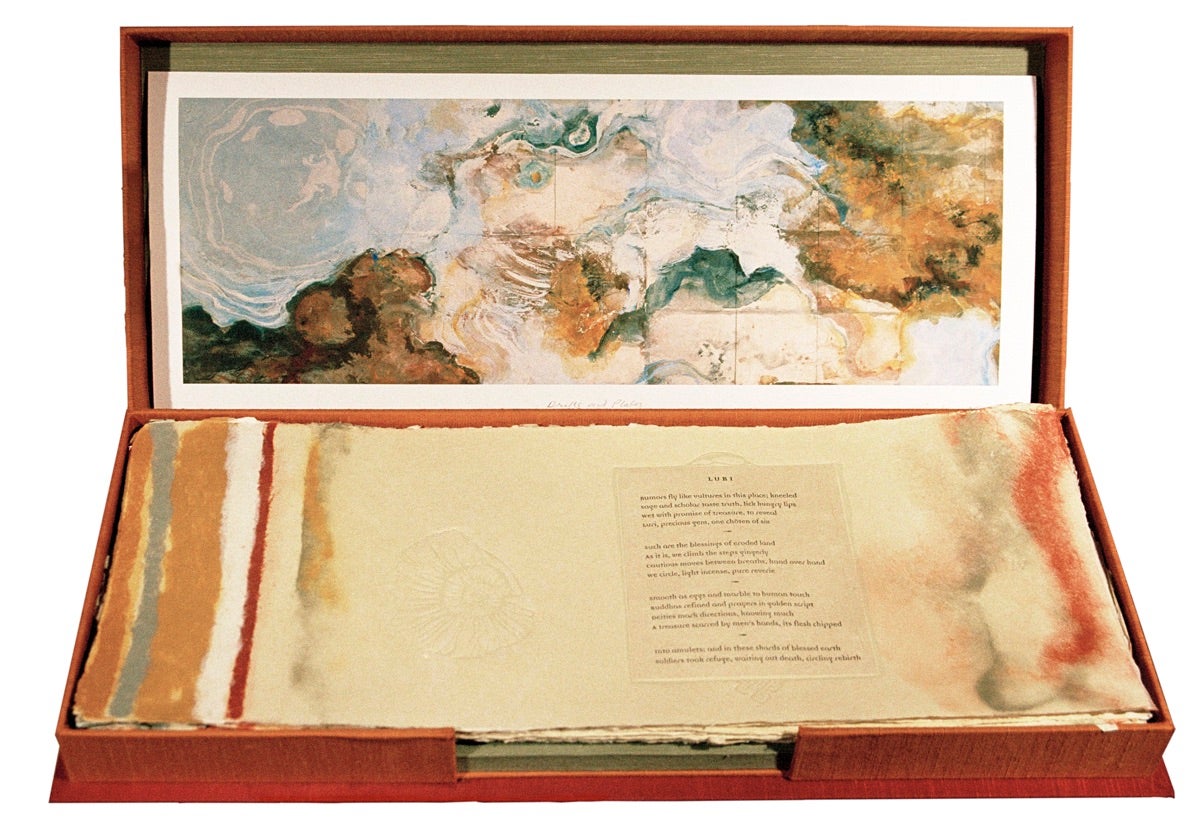 In 2004, this book was selected by Harper-Collins/Rayo as a hardback trade publication to celebrate Neruda's Centenario. Heebner named Patricia Cepeda the "madrina/godmother" of this book.
A visit to meet their daughter, anthropologist Sienna Craig, and travel by both horseback and on foot in Mustang, Nepal, was made possible through a month-long assignment for Everton. Everton's panoramic photographs combined with Heebner's Mani Wall series of paintings and Sienna's descriptions and sonnets resulted in a mother-daughter book collaboration.
The book was titled A Sacred Geography: Sonnets of the Himalaya and Tibet, and was an adjunct exhibit curated by Marla Berns to The Missing Peace: Artists Consider the Dalai Lama at UCLA Fowler Museum in 2006. 
Heebner's most recent projects include Prayer Flags & A Prayer of Longing, created on the occasion of the 25th anniversary of the imprint (1995-2020). Each book includes a series of hand-painted, handmade paper flags inspired by the Tibetan tradition she witnessed in Sikkim and Nepal, and a wire-bound 22-page journal describing her visit to the Rumtek monastery to watch a monk make prayer flags.
The hand-written invocations are prayers to a distressed planet using the vanishing art of cursive handwriting, addressing the five elements: Earth, Air, Fire, Water, Aether. The flags are sewn on satin ribbon and open to a strand spanning 15 feet.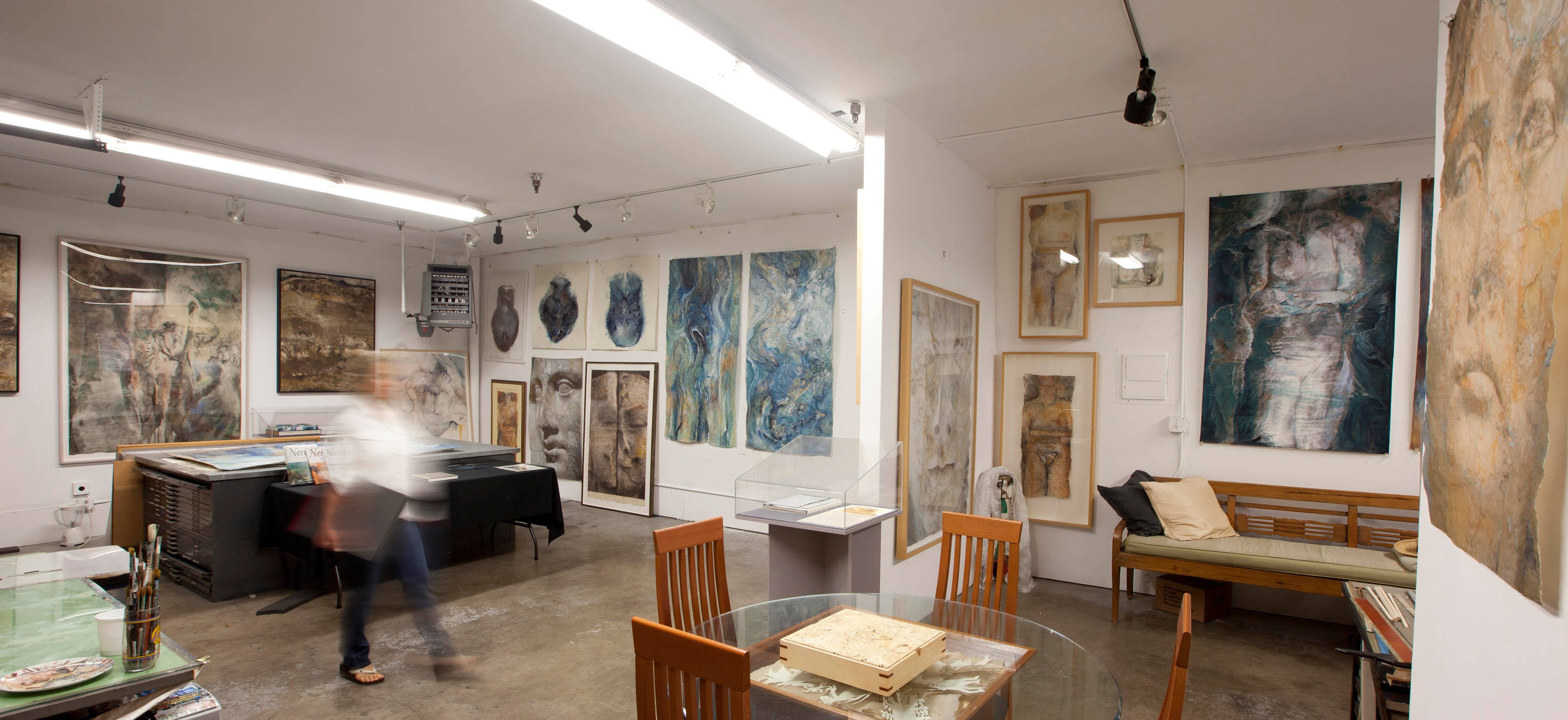 Heebner also recently completed a collaboration with writer Anthony Weller to create Sonnets of Death and Love, which pairs Weller's 40 sonnets with 40 of Heebner's collages from the Rome Sketches series. Twenty special editions have hand-painted, hand-bound covers, and include a print and one sonnet printed letterpress in a folder. 
These are just a few examples of the artists' books that have defined Heebner's notable career in the arts. All of her books are available to view in the Library's SRC collections. Her work can also be found in public institutions that include the U.S. Library of Congress, J.P. Getty Research Center, New York Public Library, British Museum, San Francisco and Santa Barbara Museums of Art, the Universities of California, University of Michigan, Dartmouth College, and Stanford University. 
"Mary's work is an incredible addition to our fine book arts collection in SRC and beautifully represents the tradition of book arts in Santa Barbara," says Danelle Moon, Director of Special Research Collections. 
The Library was working with Heebner to curate a retrospective of her fine book art history with the imprint for the summer of 2020 in the SRC exhibition space. Due to the pandemic and Library closure, the exhibition was postponed and is rescheduled for 2022. For this, she had designed and printed a 95-page catalog, Bridging: Image & Word/25 Years of Simplemente Maria Press.
"Regardless of the delay, we are thrilled to feature Mary's lifetime commitment to the fine art of collage, papermaking, travel writing, and artists books, at the Library," Moon says. "It's the perfect opportunity to highlight her legacy and the strength of the collection in this area."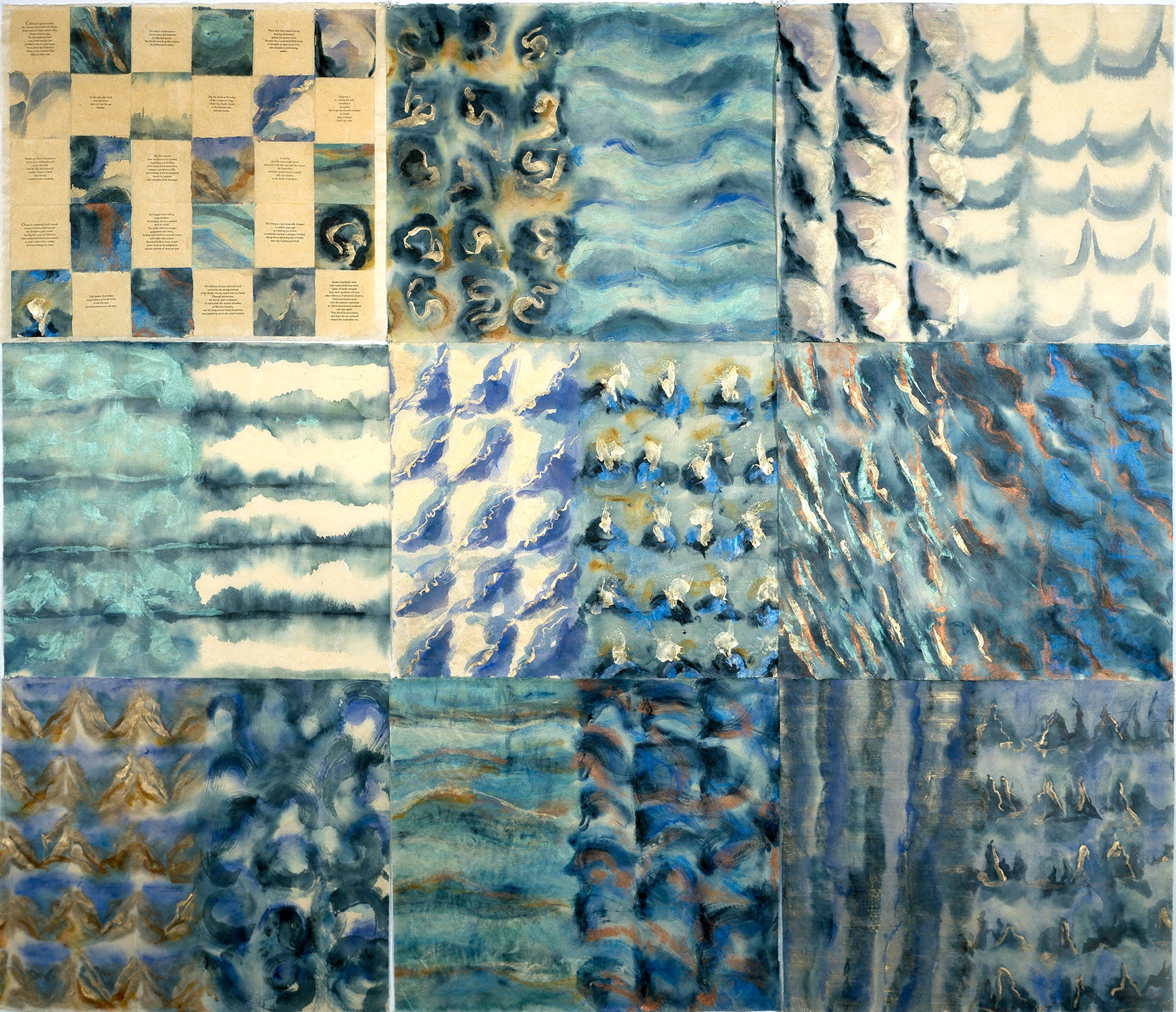 Heebner's collection in SRC mostly focuses on her artist books, including book prototypes and fabrication sketches and notes. Through these one can trace a visual record of her creative process, from "the seed ideas"--as she describes them--found in her journals, through many iterations that eventually lead to a completed edition.
Her archive also includes a substantial trove of over thirty years of handwritten journals and sketchbooks from her travels, which not only contain notes for magazine assignments but also the beginnings of many of her studio-based series of artwork—some of which subsequently inspire her creation of limited edition artists books. 
Heebner's abstract painting and multimedia practice is also represented in her collection, thanks to Amanda McIntyre, a collector of Heebner's work, who is donating one of her mixed-media pieces entitled Ocean: The Pacific, a 9-panel mural made with handmade paper, water-based pigment, and letterpress text, mounted on paper-covered wood panels.
This mural is essentially a "book-on-the-wall," part of Heebner's Western Trilogy: Desert, Ocean, Prairie 1. The piece will be installed in the Library permanently, adding to the Library's collection of fine art exhibited across the building for students and visitors to enjoy.