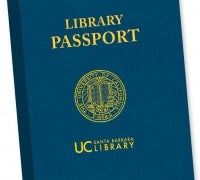 Mon, 09/25/2017 -

10:00am

to

11:00am
Mon, 09/25/2017 -

1:00pm

to

2:00pm
Tue, 09/26/2017 -

10:00am

to

11:00am
Tue, 09/26/2017 -

2:00pm

to

3:00pm
Wed, 09/27/2017 -

10:00am

to

11:00am
Wed, 09/27/2017 -

2:00pm

to

3:00pm
Event
Location:
Paseo
New students: Wondering how to find your way around the Library? Curious about how to tackle that first research assignment? Take our Week of Welcome Passport Tour for an introduction to the Library and all that we have to offer. 
Explore the Library building, learn some of the many ways that we can help you succeed at UCSB, and enter into a drawing to win one of three $25 gift cards to the UCSB Bookstore. 
Tours leave from the Paseo promptly on the hour.