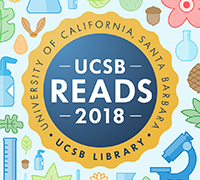 The Texture of Life: Memoirs and Other Life Stories
Event
Location:
Instruction & Training 1312
Panelists include David Marshall (Professor of English and Comparative Literature) Heather Steffen (Postdoctoral Scholar in English and the Chicano Studies Institute) and Shirley Lim (Professor Emerita, English). 
Drawing from their own scholarly and personal writing, panelists will discuss Hope Jahren's Lab Girl and the power of memoir and what is called "life writing" to understand and communicate the experience, passion, imagination, uncertainty, discovery, relationships, and acts of knowing that make up the life stories of ourselves and others.
Light refreshments will be served.
A UCSB Reads 2018 event.