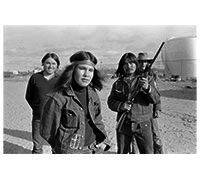 The James Bay Cree in 1973
Thu, 01/18/2018 - 8:00am

to

Thu, 11/15/2018 - 5:00pm
Exhibition
Location:
Art & Architecture Collection
Hours for Art & Architecture differ from regular UCSB Library hours.  Please check before visiting.
A photographic study of the James Bay Cree taken in four Cree villages in northern Quebec in 1973 at a time when the Cree were starting their negotiations with the government over land rights.  An installation of photographs by George Legrady.
Digital media artist and UCSB Professor of Media Arts & Technology George Legrady's first major project was a photographic documentary of four James Bay Cree First Nation communities in the Canadian sub-arctic. In 1973, the Cree invited Legrady to document their daily life as a means to strengthen their negotiations over land rights. During a three-month period, Legrady produced an archive of over 2,800 photographs representing his encounters with the Cree indigenous culture. 180 of these photographs are included here.
At the time the photos were taken, the Québec government had plans for a hydroelectric project that would flood a significant area of Cree land in the James Bay. Although the project went forward, the Cree were able to leverage the issue and negotiate self-governance, improving their political and social position within Quebec. The legal negotiations continue to this day. The Cree model may be a crucial one for North American indigenous cultures.
Panel discussion scheduled for Thursday, January 18, 2018 at 4pm.
UCSB Library Instruction & Training Room 1312 (First Floor, Ocean Side).