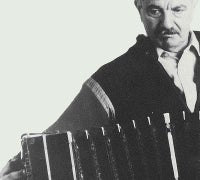 It Takes Two to Tango: Findings from the Astor Piazzolla Archive
Event
Location:
Online
Join us for a virtual conversation between Grammy award-winning musician, composer, and tango expert Pablo Aslan and David Seubert, Curator for the Performing Arts for UC Santa Barbara Library, Special Research Collections. Moderated by Alejandra Folguera, a promoter and organizer of the dance, music and art of Argentine Tango, and founder of Nomad Tango, a nonprofit focused on bringing the tango experience to Santa Barbara.
The Edouard Pecourt Collection is an extraordinarily rich collection documenting many areas of 20th-century music history in Latin America. Within the Edouard Pecourt Collection are materials that provide a deeper look into the mind of Astor Piazzolla and the Argentine tango. With support from the Latin GRAMMY Cultural Foundation, UCSB Library brought in tango expert Pablo Aslan as a consultant to visit the collection and provide expert assistance on the Piazzolla materials. Aslan's expertise as a composer, researcher, and educator enabled him to identify unique and important items for digitization, and provide supplementary information to the existing finding guide. 
The virtual discussion will focus on the history of the collection, interesting findings within the archive and the significance of preserving these materials to not only the tango community but researchers, scholars, and the community at large.
RSVP: https://docs.google.com/forms/d/1mCi4W5bpYm0b1xcpOPEJCTMXORRhChpwsSdQx3NwtfE
Pablo Aslan is an Argentine-born bassist and composer recognized internationally as one of the leading figures in traditional and contemporary tango. His extensive discography includes Piazzolla in Brooklyn, a jazz-tango tribute to Astor Piazzolla, and Tango Grill. The latter earned him nominations for a Latin Grammy Award ("Best Tango Album") and a Grammy Award ("Best Latin Jazz Album"). As a producer, he has shaped more than a dozen albums, including the 2007 Latin Grammy Winner Te Amo Tango by Uruguayan bandoneonist Raul Jaurena. He performs and tours with a variety of ensembles, including his own 1950s tango dance band, The Aces of Rhythm. Aslan is an active researcher and educator producing educational programs for Lincoln Center Institute,Carnegie Hall Neighborhood Concerts, and Arts Connection in New York City.
David Seubert has been the curator of the Performing Arts Collection at UCSB Library since 1998 and manages the performing arts archives and the recorded sound collections and audiovisual archives. He is project director of the UCSB Cylinder Audio Archive, the library's online collection of early sound recordings, and the Discography of American Historical Recordings, a research project and database documenting early sound recordings. He is a past president of the Association for Recorded Sound Collections, a professional association of audio archivists and  librarians, and he is an appointed member of the Library of Congress' National Recording Preservation Board.
Alejandra Folguera was born in Argentina and currently resides in Santa Barbara. She is a promoter and organizer of the dance, music and art of Argentine Tango and the founder of Nomad Tango. She designs, promotes, and organizes events, including local's favorite Monday Practica, and has brought top international tango artists to Southern California. From an early age she studied music at the Collegium Musicum, and at the Municipal Conservatory in Buenos Aires and she co-founded and performed in a medieval and baroque ensemble, Clusters, directed by Maestro Héctor Rodriguez. She believes in the power of getting groups of people together to foster ties and make the community stronger.