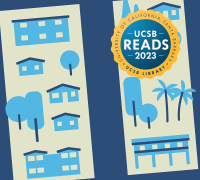 Housing in Santa Barbara: Challenges and Opportunities
Event
Location: Santa Barbara Central Library, 40 East Anapamu Street.
This event is in conjunction with SBPL's annual Book to Action selection "Golden Gates: The Housing Crisis and a Reckoning for the American Dream" by Conor Dougherty, and UCSB Library's "one-book" program 
UCSB Reads 2023
.  The UCSB Reads 2023 selection, "
Happy City: Transforming Our Lives Through Urban Design
" by Charles Montgomery, explores how city planning and personal decisions can have profound implications for social equity, sustainability, and our overall well-being. 
Free copies of "Golden Gates" will be distributed at the event while supplies last.
Panel will be moderated by journalist Josh Molina, and includes the following experts:
Barbara Anderson, Senior Assistant to City Administrator
Waverly Duck, UCSB Professor
Lucrezia R. de Leon, Architectural Designer, Vanguard Planning
Frank Rodriguez, Policy & Communications Associate, Central Coast Alliance United for a Sustainable Economy (CAUSE)
Stanley Tzankov, SB Tenants Union Member