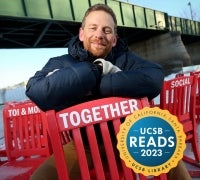 UCSB Reads 2023 Presents Author Charles Montgomery
Event
Location:
UCSB Campbell Hall
UCSB Library is excited to present Charles Montgomery, UCSB Reads 2023 author of Happy City: Transforming Our Lives Through Urban Design for a free community talk at Campbell Hall.
REGISTER HERE
Event is free but registration through the Arts & Lectures portal is required. If you don't have an Arts & Lectures account, you will be asked to created one. This event will be photographed or recorded.
In "Happy City," the award-winning journalist Charles Montgomery looks at the intersection between urban design and the emerging field of "happiness studies." The book draws on the work of behavioral economists, psychologists, neuroscientists, and city planners to explore how city planning and personal decisions can have profound implications for social equity, sustainability, and our overall well-being. The book asks us to explore the question: "What kind of living environment makes us happy?" Montgomery's emphasis on the importance of living a "connected life" and feeling connected to others is especially relevant as we return from the isolation of the pandemic.
Charles Montgomery is an award-winning author, urbanist, and leader of a consultancy building more happiness into cities. He is the author of the book Happy City, about which The New York Times wrote: "Happy City is not only readable but stimulating. It raises issues most of us have avoided for too long. Do we live in neighborhoods that make us happy? That is not a silly question. Montgomery encourages us to ask it without embarrassment, and to think intelligently about the answer."