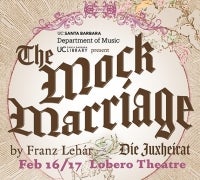 Operetta performance of Franz Lehár's The Mock Marriage (Die Juxheirat)
Event
University of California Santa Barbara Opera Theatre presents the North American premiere of Franz Lehár's The Mock Marriage (Die Juxheirat), which was selected  from the collection of the Michael and Nan Miller Operetta Archive, in celebration of the Michael and Nan Miller Operetta Archive bequest to UC Santa Barbara Library. The Mock Marriage was written one year before Franz Lehár set the operetta world on fire with The Merry Widow.
Lobero Theatre, 33 East Canon Perdido Street, Santa Barbara, CA
The setting for this 1904 women's suffrage operetta is Newport, Rhode Island. Beautiful melodies, sweeping orchestrations, grand costumes and comedic turns will surely delight audiences young and old. Both performances by the award-winning UCSB Opera Theatre students will be performed in English.
Tickets can be purchased at the Lobero Box office, Lobero online, or at the Associated Students ticket office on campus. Prices are UCSB Students (with ID) and children under 12: $8; Non-UCSB students (with ID): $13 and $35 reserved.
UCSB Library is also creating an operetta exhibition, which will be on display in the Mountain Gallery from January 14, 2019 through the end of May, 2019. A free lecture and reception will be held on Friday, February 15 from 4-6 p.m. in the Sunrise Room, located adjacent to the Mountain Gallery. For more information about this exhibition and related events, please visit www.library.ucsb.edu/exhibitions