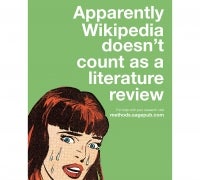 Faculty & Graduate Student Training Workshops: SAGE Research Methods
Tue, 10/17/2017 - 10:45am
Event
Location:
Instruction & Training 1575
10:45am - Faculty Workshop 
1:00pm - Faculty Workshop 
2:15pm - Grad Student Workshop 
3:30pm - Grad Student Workshop 
SAGE Senior Library Relations Manager Heather Dray, MLIS, will demonstrate how SAGE Research Methods supports students and faculty in the application of research methods in the social and behavioral sciences. 
SAGE Research Methods is a subscription database product that provides full-text access to more than 1,000 social sciences-related books, reference works and journal articles published by SAGE. The database also contains sub-collections of Cases, Datasets, and Videos all designed to aid pedagogy in the social sciences.