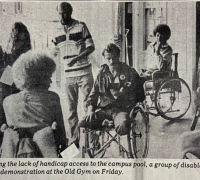 Disability Culture and Activism: UCSB and Beyond
Event
Location:
Online
View a recording of the event.
Please join UCSB Library for an inspired by a class project and exhibition highlighting the history of disability culture and activism at UCSB.
Students from Jesse Miller's Winter 2020 "Disability Aesthetics" (ENGL 170DA) course will discuss their class project, an exhibition created using archival materials from the Library's Special Research Collections. To connect the history of disability culture and activism with the present, students will also lead a discussion with Rod Lathim, the founder of Access Theatre.  Access Theater was a pioneering accessible theatre company based in Santa Barbara for 18 years. 
There will be ASL interpretation and closed captioning at the event.
This event is in honor of Disability Employee Appreciation Month and the 30th anniversary of the signing of the American with Disabilities Act.  It is also in conjunction with Crip Camp: A Disability Revolution: A virtual discussion with the directors of (2020).
This event is co-sponsored by UCSB Library, the Carsey-Wolf Center, and the Disabled Students Program.
Image from UCSB Library Special Research Collections, UAarch 12 Public Information Office Subject Files.