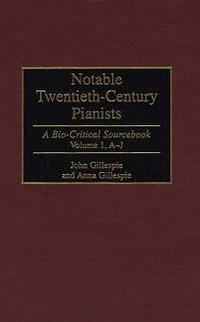 John E. (Jack) Gillespie (1921-2003) was professor of Music at the University of California, Santa Barbara for over 40 years. He authored Five Centuries of Keyboard Music (1964), The Musical Experience (1968), Nineteenth-Century European Piano Music, Nineteenth-Century American Piano Music, Notable Twentieth-Century Pianists: A Bio-Critical Sourcebook, (1995) and numerous articles. He also made a series of recordings of harpsichord music. His wife, Anna Gillespie, collaborated with her husband on many of his projects.
The collection containes the research files on twentieth century pianists compiled by John and Anna Gillespie for the book Notable twentieth-century pianists: a bio-critical sourcebook (Greenwood press, 1995). Files include photocopied clippings of articles, books and concert reviews, programs, publicity materials, photographs, and correspondence. Part of the collection is stored offsite and requires additional notice.
For a description and inventory of the collection, consult the finding guide in the Online Archive of California (OAC). A paper copy of the finding guide is also available in the Special Collections Reading Room.
Related materials including research files for John and Anna's book Nineteenth-Century American Piano Music can be found in the John and Anna Gillespie Collection, housed at the Music Library at the University of Colorado at Boulder.