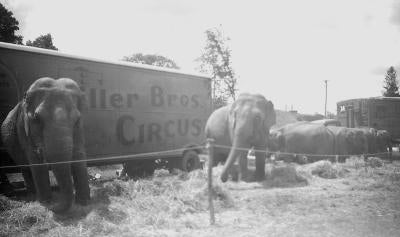 The collection consists of photographic negatives of California circuses from 1945 to 1955, including the Clyde Beatty, Bell Brothers, Biller Brothers and Yankee Paterson Circuses.
The Clyde Beatty circus, among the largest of its time, is also the best represented in this collection. Its owner and namesake was the star act, performing with the wild animals in the ring. Beatty worked with many circuses, frequently headlining and co-managing, and appeared in a number of movies, often as himself.
Many of the images portray circus vehicles and grounds and some show animals backstage. The collection is organized into sections associated with dates and particular circuses, and the accompanying labels are in English.
For a description and inventory of the collection, consult the finding guide in the Online Archive of California (OAC). A paper copy of the finding guide is also available in the Special Collections Reading Room.