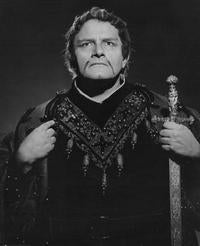 Barrett and Muriel Crawford have donated their Leonard Warren Archive to the Library at the University of California, Santa Barbara. Barrett is President and Muriel is Secretary of the Leonard Warren Foundation.
The Leonard Warren Archive includes over 450 of Warren's sound recordings (including authorized and unauthorized 78 rpm, 45 rpm, LPs, CDs, tapes, and videos) and over 400 items of memorabilia including portraits, opera and family photographs, opera and recital programs, posters, correspondence, his personal scores and sheet music and the Warren biography and other publications.) The Crawfords acquired a portion of the archive through the generosity of Edward Warren Haber, who is Leonard Warren's grand nephew.
From his debut at New York City's Metropolitan Opera in 1939 until his death in 1960, baritone Leonard Warren was acclaimed as one of America's preeminent operatic artists. Among his greatest characterizations were his signature role as Rigoletto and his Macbeth, Simon Boccanegra, Count di Luna in Il Trovatore, Tonio in Pagliacci, Carlo in La Forza del Destino, Scarpia in Tosca and Iago in Otello. Warren's dedication to perfection was legendary. As critic Paul Henry Lang of the New York Herald Tribune wrote, Leonard Warren's "...voice and singing were the triumph of the oldest and most profound traditions of the lyric stage."
Warren's untimely death at the age of 48, during a Met performance of La Forza del Destino, marked the end of an exceptional career that included performances in the world's foremost opera houses, including over 600 appearances at the Metropolitan Opera, as well as with other American companies, most notably San Francisco and Chicago. Internationally, Warren performed on the leading operatic stages of Argentina, Brazil, Italy, Mexico, and Russia.
The Leonard Warren Foundation was established in 1986 by Barrett Crawford and the late Vivien Warren, Leonard Warren's sister, to perpetuate Warren's artistry and aid in the career development of aspiring singers. Although Leonard Warren is considered the greatest dramatic baritone of his era, when the Foundation was established no book had been written about his life and career, and most of his recordings were out of print. The founders were concerned that Warren's exceptional artistry might be inaccessible to future generations.
The Foundation's goals included the publication of the Warren biography which was published in 2000 (Leonard Warren: American Baritone / Mary Jane Phillips-Matz. Amadeus Press). Another goal was to make available Warren's most treasured opera arias and concert songs on a new commemorative CD set, which was finished by the Foundation in 2000 and donated along with the book to 435 music schools in eight countries.
Published sound recordings (LPs, CDs and 78s) have been been cataloged in UC Library Search, and are available to researchers for listening in the Special Collections reading room. The memorabilia and unpublished recordings are currently being processed and will be open for research in 2008.