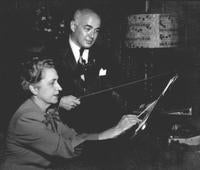 The Department of Special Collections at the University of California, Santa Barbara holds the papers of the American composer and pianist Mildred Couper, one of the first musicians to experiment with quarter-tone music. She was born in Buenos Aires, Argentina and was educated in Italy, France, and Germany. She was married to American expatriate artist Richard Hamilton Couper and spent her early married life in Rome, Italy. At the outbreak of World War I she and her family fled to New York City. In New York she taught piano for nine years at the David Mannes Music School before moving in 1927 to California, where she established a studio in Santa Barbara. In Santa Barbara she started her quarter-tone experiments. The first work in this medium was the ballet Xanadu, which was performed in the production of Eugene O'Neill's Marco Millions in the Lobero Theatre. Besides quarter-tone works, Mildred Couper wrote incidental music for plays at the Lobero, and also a Dance-Opera, And on Earth Peace, to words by Scottish-Argentine artist Malcolm Thurburn.
Further information can be found on the website "Mildred Cooper Couper (1887-1974) Musician and Composer" at http://wingedsun.com/couper-m/.
For a description of the collection, consult the finding guide in the Online Archive of California (OAC).
A commercial recording of two of Couper's pieces was released by Innova Records in 2003.
Digitized materials
With the permission of Couper's family, the Library has digitized portions of the collection to facilitate scholarly research into and appreciation of her music. Couper's music is still protected by copyright and the presence of these items on the web does not absolve the user of the responsibility to secure permission for performances, recordings or other uses of these items beyond the purposes of research and study. Digitized items can be accessed through the library's digital collections portal.
Scans of manuscripts and webpages for Mildred Couper's music created by Rebecca Thompson, Oberlin College, Oberlin Ohio.