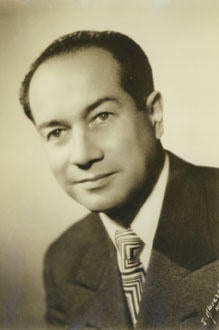 The collection consists of 32 discs, including 26 original acetate recordings, six 78rpm shellac test pressings and 8 tape recordings. The discs were recorded over the period 1943-1954, and include solo as well as duet and ensemble performances with Lily Djanel, Eileen Farrell, Hertha Glaz, Raoul Jobin, Jarmila Novotna and Beverly Sills. The collection includes performances of works by Canteloube, Chabrier, Charpentier, Debussy, Duparc, Flotow, Lehman, Massenet, Mussorgsky, Puccini, Ravel and Schumann. The Ravel piece is a section of Don Quichotte à Dulcinée, which was written for Singher. Other notable items include two recordings under the direction of Eugene Ormandy and two recordings with the CBS Symphony under the direction of Bernard Herrmann. The tapes were recorded from 1975-1980 and include the master tapes from his two recordings with Berkeley's 1750 Arch Records as well as tapes of Singer reading French Poetry.
For a description of the collection, consult the finding guide in the Online Archive of California (OAC). 
For more information on the collection or assistance in using the materials, please contact Special Collections staff at special@library.ucsb.edu.