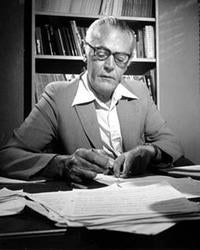 Peter Racine Fricker was a British-American composer active from WWII through the 1980s. From 1964 until 1990 he taught at the University of California, Santa Barbara. His papers are housed in the Department of Special Collections and include a nearly complete collection of his published, manuscript and diazo scores, recordings of his compositions and materials related to his teaching activities at the University.
For a description of the collection, consult the finding guide in the Online Archive of California (OAC). For information on his compositions, consult his catalog of works. The catalog of works can be used in conjunction with the finding guide to provide more detailed information (such as completion dates, first performances, recordings etc.) on each of his compositions.
For more information on the collection or assistance in using the materials, please contact Special Collections staff at special@library.ucsb.edu.