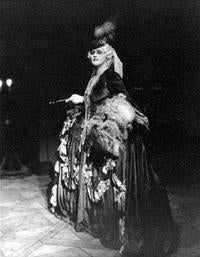 The Lotte Lehmann Collection contains letters, scrapbooks, manuscripts, photographs, sound recordings, artwork and other material relating to the life and career of internationally-renowned Austrian soprano Lotte Lehmann (1888-1976), famous for her interpretations of Fidelio, Der Rosenkavalier and German lieder who spent the last thirty-six years of her life in Santa Barbara.
For a description of processed portions of the collection, consult the preliminary finding guide in the Online Archive of California (OAC). 
Copies of the Lotte Lehmann Centennial Album (three LP set) with forty-four previously unreleased songs taken from 1941 Columbia radio transcriptions are available through Special Collections for $15. For more information on the collection or assistance in using the materials, please contact Special Collections staff at special@library.ucsb.edu.