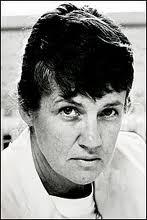 Born in Santa Barbara, California, Marjorie Kellogg (1922-2005) began her writing career as a copy editor for the San Francisco Chronicle after attending UC Berkeley. A later position led her to Europe, where she covered France and Spain for Salute magazine immediately after World War II. After returning to the United States, she obtained a bachelor's and master's degree in social work from Smith College. While working as social worker in New York City, Marjorie Kellogg completed her first novel, Tell Me That You Love Me, Junie Moon (1968), adapting it as a screenplay for the 1970 movie of the same name, directed by Otto Preminger and starring Liza Minnelli and Ken Howard.
Kellogg followed her second novel, Like the Lion's Tooth (1972), with a screenplay adaptation of Sylvia Plath's The Bell Jar. In addition to her novels and screenplays, Kellogg wrote plays and musicals, including The Oldest Trick in the World, directed by Carl Williams, The Smile of the Cardboard Man, and After You've Gone, both starring Sylvia Short.
In addition to correspondence, original manuscripts, photographs, press clippings and artifacts relating to Kellogg's writing career, the collection includes historical photographs of Santa Barbara and the surrounding area. The finding guide to the collection is available on the Online Archive of California.