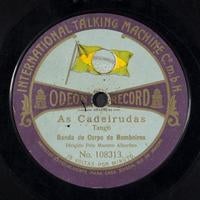 The UCSB Library has received a grant of $239,600 through the "Cataloging Hidden Special Collections and Archives" program funded by the Andrew W. Mellon Foundation and administered by the Council on Library and Information Resources (CLIR). The grant will fund new staff to catalog European and Latin American recordings of popular, vernacular, and ethnic music from the first decades of the recording industry, focusing on recordings from Iberia, France, and Latin America. The 18,000 discs to be cataloged are from Argentina, Brazil, Cuba, France, Mexico, Peru, Portugal, and Spain and date from 1900 to 1960, the bulk of which are from 1900 to 1940. The discs are from the Bruce Bastin/Interstate Music collection, the Edouard Pecourt collection, as well as smaller collections such as the Roberto Eyzaguirre collection of Peruvian 78 recordings. These key resources are important to an increasingly global and interdisciplinary scholarly community where historical recordings are used in the study of a variety of humanistic disciplines.
Two catalogers were hired in May 2013, one responsible for cataloging Spanish/Portuguese recordings and the second for French and other recordings.
Information on newly cataloged recordings is available in UCSB Library Search.