Selections from Special Collections' Romaine Trade Catalogs and other collections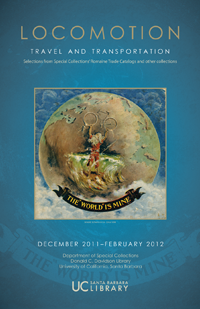 This exhibit features selections from UCSB's Department of Special Collections related to the general theme of travel and modes of travel. A number of the department's collections are represented, Wyles, Bernath, CEMA etc., but the focus is on the travel and transportation components contained in our Lawrence B. Romaine Trade Catalog Collection (Romaine Trade Catalog Collection (RTC) Mss 107).
Lawrence B. Romaine (1900-1967) was an antiquarian book dealer, who bought and sold rare books, manuscripts, trade catalogs, and other Americana. Romaine was recognized as the leading expert in the U.S. on trade catalogs, and was the author of A Guide to American Trade Catalogs, 1774-1900, the standard reference work in this field.
Represented subject areas from the Romaine Trade Catalog Collection in this exhibit, besides the category "Transportation" itself (featuring maps, hotel catalogs, and travel brochures among other), include: Automotive, Aviation, Bicycles, Boats, Railroad Supplies and Motorcycles.
Selections from other collections include photo albums, journals, letters and other items from travelers to various locales in the U.S. as well as to a number of foreign lands. Specific collection-related information is provided with each of these items.