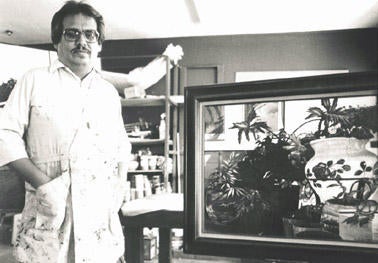 The papers of Chicano artist Emigdio Vasquez were established in CEMA on February 25, 1998. Vasquez, an Orange, California based painter and muralist, is recognized as one of the pioneering artists in the Chicano art movement, whose paintings and murals capture the essence of every day life. Vasquez' artistic style is rooted in contemporary realism, a technique he mastered to reflect the lives of the working class in the Chicano community.
Vasquez was born in Jerome, Arizona and as a young child moved to Orange. He holds Bachelor of Arts and Master of Arts degrees from California State University, Fullerton. He has exhibited his work in many museums and private galleries, including the historic Chicanarte at the Los Angeles Municipal Art Gallery (1975); A Traves de la Frontera exhibition in Mexico City (1984); Chicano Art: Resistance and Affirmation at the UCLA Wight Gallery (1990), and Three Faces of Latino Art at the Caged Chameleon Gallery, Santa Ana (1996).
Vasquez has taught in the art department at Rancho Santiago Community College. From 1985 to 1988 Vasquez managed a major public arts program for the Bowers Museum of Cultural Art, the California Arts Council and the City of Santa Ana. This included creating an eighty-five foot mural at the Orange County Transportation Center in Santa Ana. In 1996 Vasquez received an Artists Fellowship from the Adolph and Esther Gottleib Foundation in New York to support his continued documentation of the Chicano experience in Southern California.
The paintings of Emigdio Vasquez are held in numerous private and public collections including the Laguna Beach Museum of Art, the Bowers Museum of Cultural Art in Santa Ana, California, and the Hunt-Wesson Foods Corporate Collection. Carl Karcher Enterprises sponsored a mural project at Manzanita park in Anaheim in 1985, and Disneyland commissioned a mural from him for the Lawry Food Center located in the Magic Kingdom. The most recent mural from Vasquez was installed in 1997 in the Cesar Chavez Building at Santa Ana College in Santa Ana.
"Emigdio Vasquez is one of Orange County's true cultural and artistic treasures," comments Paul Apodaca, professor at Chapman University in Orange, and former curator of the Bowers Museum "His continuing documentation of the hopes and dreams, as well as the struggles, of the Mexican-American community is unique in the history of Orange County." According to Vasquez, art creates an environment which enlarges humanity. The painted image is a vehicle which expresses the culture of the American people. These feelings are a commentary on our lives and times."
His collection consists of slides of his work, photographs, silk screen prints, videos, interviews, correspondence and project files, and mural renderings.