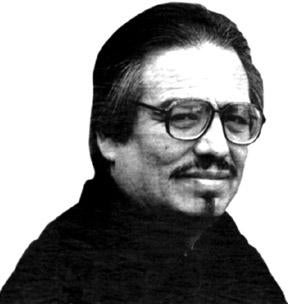 A pioneer in the Chicano art movement, was born in the historic mining town of Jerome, Arizona. His family moved to Orange, California when he was two years old. Painter and muralist, Vasquez holds BA and MA degrees from California State University Fullerton and AA degree from Santa Ana College.
Newspaper articles, television programs and radio interviews have featured Emigdio and his socially enlightened work for the last 30 years. Emigdio has exhibited in numerous museums and private galleries. The Bowers Museum of Cultural Art engaged Vasquez as Artist-in-residence from 1985 to 1988 and he conducted public art & painting classes. Commissions from collectors, municipalities and the state-funded California Arts Council have brought the paintings and murals of Emigdio before a wide audience. Award-winning artist, educator and community art organizer, Emigdio Vasquez documents and memorializes the struggle for survival and dignity of the working class: The experience of being marginal, caught between cultures as well as borders. Vasquez fuses the elements of social and super realism into warmly colored compositions, conveying a powerful sense of the social struggle present within the urban Chicano experience of 20th century America.
His work reflects an illuminating humanism that transcends ethnicity because it reveals aspects of the human character common to all of us. It is a message of universality addressed, first, to the Chicano working class and then to the rest of humanity. Emigdio Vasquez is an artist of power and skill who achieves a visionary quality within his work. To have a relevance or impact in the community of ideas one must advocate a position or perspective. Artists attempt this through technique and composition. Vasquez is a mature artist who uses his mastery of realism and complex glazing techniques to enhance his compositional statements and achieve a progressive body of work. The subtlety of his work does not disguise his passion. The contributions of artists from Mexico will ring louder as time goes by. The recognition of the Mexican- American artists of the 20th century has been largely confined to comparisons with other Latin Americans. Emigdio Vasquez is an important painter who broadens the definition of America. Through his eyes we are reminded of the common humanity and of the struggle for dignity present in the complex fabric that makes up a free society.
Paul Apodaca
Curator Bowers Museum - Santa Ana, California 1996
Artist Statement
I consider my art to be a part of the experience of the working class. The daily life of people in the barrio are documented in my work. This environment holds inspiring visions of human warmth and cultural heritage. I do not view my subjects as a detached observer, I am personally involved with the people and scenes in my paintings. They are a part of my life experience.
Life often holds harsh realities. Many of these appear on my canvasses. Translating elements of beauty and struggle are essential to me. I want to convey to the viewer the intense reality which people experience. Art must be more than aesthetic or decoration. Art creates an environment which enlarges humanity. The painted image is a vehicle which expresses a wide array of human feelings. These feelings are a commentary on our lives and times.
Emigdio Vasquez
Selected Exhibitions
96 - "Three Faces of Latino Art," The Caged Chameleon Gallery, Santa Ana, California
95 - "Raices Hispanas/Hispanic Roots," Mills Pond House Gallery, St. James, New York
94 - "Mural Art: The Urban Vision," West Art Gallery, California State University Fullerton, California
93 - "Americanism: Breaking the Mold," Porter Butts Gallery, University of Wisconsin, Madison, Wisconsin
92 - "The Hispanic Experience in the American Southwest" Arizona State University West, Phoenix, Arizona
91 - "2001: Hispanic Artists' Odyssey," Museo Chicano, Phoenix, Arizona
90 - "Chicano Art: Resistance and Affirmation," UCLA Wright Art Gallery, Los Angeles, California
88 - "Two Sides of Realism," Gallery 44, Oakland, California
86 - "Stele/Chicano Monuments," Orange County Center for Contemporary Art, Santa Ana, California
85 - "El Mundo Es Uno: Expressions of Latino Experience," Benton County Historical Museum, Philomath, Oregon
84 - "A Traves de la Frontera," El Centro de Estudios Economicos y Sociales del Tercer Mundo, A.C. Mexico, D.F., Mexico
83 - "Images From Third World Artists in California," Mary Porter Sesnon Gallery, University of California Santa Cruz, California
82 - "Imagenes de la Raza," America Haus Berlin, U.S. Cultural Center, Berlin, Germany
82 - "The Real Thing: Southern California Realist Painting," Laguna Beach Museum of Art, California
79 - "Our Own Artists; Art in Orange County," Newport Harbor Art Museum, Newport Beach, California
76 - "Arte Picante," Mandeville Art Center, University of California San Diego, California
75 - "Chicanarte," Los Angeles Municipal Art Gallery, Los Angeles, California