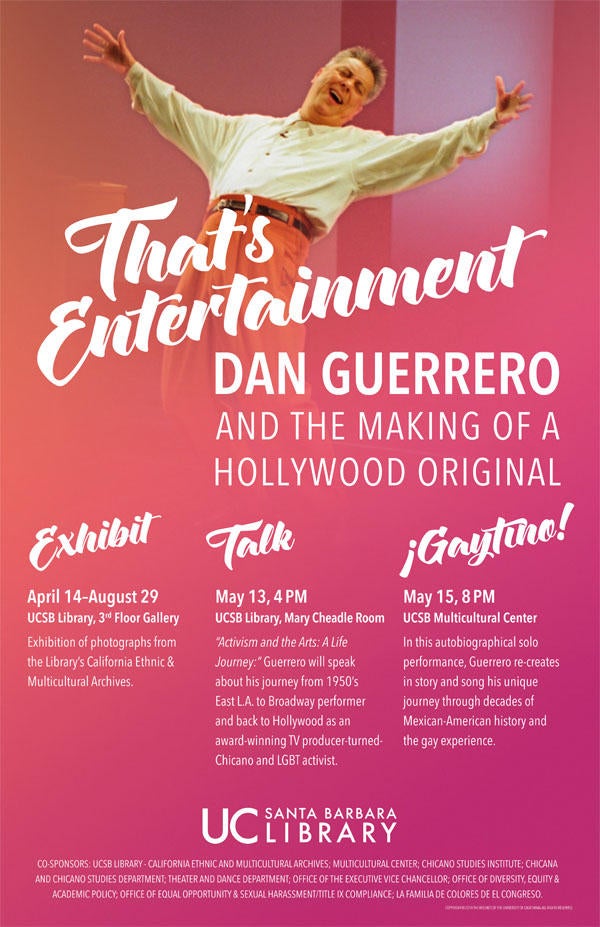 That's Entertainment: Dan Guerro and the Making of a Hollywood Original
April 14 - August 29, 2014, UCSB Library, 3rd Floor Gallery
Activism and the Arts, A Life Journey
May 13, 2014, 4:00 PM, UCSB Library Mary Cheadle Room
¡Gaytino!
May 15, 2014, 8:00 PM at the UCSB Multicultural Center
That's Entertainment
centers on the life of a man
Hispanic
magazine once named "one of the 25 most powerful Latinos in Hollywood." Son of the legendary musician Lalo Guerrero, Dan Guerrero is an award-winning television and live event producer, a Broadway talent agent, a Latino and LGBTQ activist, and a writer and performer.
Guerrero's life narrative draws on his dual identities as both a Mexican-American and gay man. Through his personal evolution, Guerrero has come to embrace these complex identities as a source of empowerment and an inspiration to others.
This exhibition includes documentary images of Guerrero's youth in East Los Angeles, his years in the New York theater, his return to Los Angeles as a Hollywood producer, and his work as an outspoken activist for both the Latino and LGBTQ communities. His lifelong friendship with Carlos Almaraz, the late celebrated Chicano visual artist, is also depicted.
That's Entertainment coincides with Dan Guerrero's Spring 2014 UCSB residency and the performance on campus of his autobiographical solo show, ¡Gaytino!. In ¡Gaytino!, Guerrero re-creates through story and song his remarkable journey of discovery across the lines of ethnicity and gender while chronicling the impact on his life of political and cultural icons—including his father, his boyhood friend Almaraz, Cesar Chávez, and Stephen Sondheim. The show has been praised for its portrayal of the interconnected lives of artists and activists who have fueled the civil rights struggles of the past five decades.
The materials for this exhibition are taken from the California Ethnic and Multicultural Archives (CEMA) within UCSB Library's Department of Special Collections. In 2004, Dan Guerrero established the Dan Guerrero Collection on Latino Entertainment and the Arts to document Latino cultural and entertainment history.