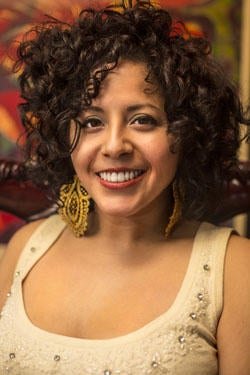 Guide to the Favianna Rodriguez Papers
Rodriguez is an internationally renowned artist, activist, and teacher based in Oakland, California. Her bold posters and digital art deal with social issues, such as immigration, globalization, climate change, economic injustice, patriarchy, racism, and war. Whether handmade or printed en masse, her prints reflect the impact people can have on their conditions.
Rodriguez has founded several organizations dedicated to training communities and artists in the use of political graphics, murals, and the Internet for social change. She lectures widely on the use of art in civic engagement and the work of artists who, like herself, are bridging the community and museum, the local and international. Her works appear in collections all over the world, from Mexico to Scotland.
In 2008, Rodriguez was named one of Utne Reader magazine's "50 Visionaries Who Are Changing the World."
The Favianna Rodriguez Papers will grow over time, to eventually include art sketches, lectures, correspondence, photographs, videos and ephemera. She works with a variety of  graphic media, including digital art, silkscreen art, linoleum cuts, wood block cuts and monotypes. Her papers reflect on her her life as an artist activist in the twenty-first century.
Video - Favianna Rodriguez Artist Talk on January 30th, 2013
Favianna Rodriguez - Art of the Activist Imagination (Winter 2013)