Guide to the Frank Chin Papers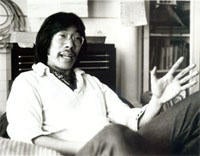 The UCSB Library has acquired a major collection, the Frank Chin Papers that will advance scholarship in Asian American cultural studies. Acquiring this collection caps a 12-year effort of the California Ethnic and Multicultural Archives (CEMA) to secure the papers of this prolific cultural luminary. These important papers will be housed in the Special Collections Department in the UCSB Library.
Frank Chin is a UCSB graduate (1965) and is widely recognized as the most influential Asian American dramatist and writer (novels, short stories, essays) in the country. He is one of a handful of top literary figures in Asian American literary and cultural communities, and he is distinguished as being the first Asian American playwright produced in New York. He founded the Asian American Theater Workshop in San Francisco that evolved into the Asian American Theater Company (AATC). CEMA secured the AATC archives in 1991.
The Frank Chin Papers amount to 56 linear feet (45 boxes), and include typed and pen-corrected original manuscripts, letters, unpublished scripts, photographs and ephemera. The collection also includes files of his early involvement in the Redress and Reparations movement, even prior to that of the Japanese Americans Citizens League.
In discussing the value of the papers, Chin remarked "I hope that my collection of research, letters and experimental manuscripts will stimulate a more traditional study of Asian American literature, beginning with an introduction to the Asian children's stories shared by China, Korea, and Japan since pre-historic times, and the "vernacular novels" developed to spread Chinese heroic tradition of the Ming, as a conscious expression of the myth of civilization throughout Asia." "By making my papers available to the public, I hope that my efforts to treat knowledge of Asia and America as equally important will be seen and used."
CEMA Director Sal Güereña first approached Chin in 1991 about his collection but Chin replied then with his characteristic wit that he was "not yet ready to go to that great big ethnic studies department in the sky."
In the end, twelve years later Chin agreed that his papers should make their home at UC Santa Barbara. According to UCSB Asian American Studies librarian Gerardo Colmenar, "This unique collection will provide Asian American Scholars and other researchers with a rich source of primary materials of paramount importance to a deeper understanding of the complex nature of cultural and literary production by Asian Americans. We anticipate that this collection will bring many researchers to UCSB."
The UCSB Library is proud to be able to offer this new and important resource to advance ethnic studies scholarship and teaching.