You may submit renewal requests for your ILL loans from your requests list (please submit renewal requests no more than seven (7) days in advance of the due date).
To submit a renewal request for a particular item, click on the "Renew" button, located on the right side of the request display: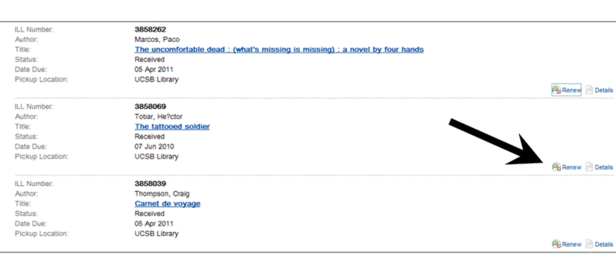 In the resulting "renew a request" window, fill in your email address in the "Enter your email address" text box. An email address is required. You can also elect to send a copy of the email message to the same address or to another address.
Click the "Send email" button at the bottom of the renewal request form to submit your request for renewal.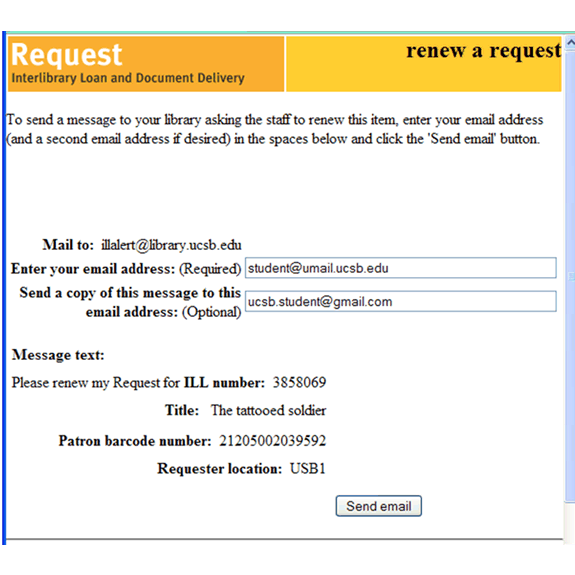 Clicking the "Send email" button at the bottom of the form, sends your request for renewal to the UCSB Interlibrary Loan Office. In turn, office staff will contact the lending library requesting a renewal. Requests for renewal are not automatic as they must be approved by the lending library. Click the "OK" button to close this window and return to the "Request Details" screen.


When a renewal request is formally sent to the lending library, the item's status will change to "Renewal Requested."

"Renewal approved": If the lending library approves a renewal request, the item's status will change to "Received" with the new due date indicated.
"Renewal denied: If the lending library declines a renewal request, you will be contacted by email, requesting that the item be returned.