In a room at the UC Santa Barbara Library, Eileen A. Fradenburg Joy and her students prepare for revolution. They wield no weapons, only words. They seek not to overthrow a government, but to disrupt the multibillion-dollar academic publishing industry. Joy leads the Arnhold Punctum Publishing Lab...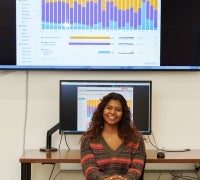 The Twitter hashtag #NoDAPL has inspired a timely UCSB undergraduate research project. Environmentalists and social activists are using the hashtag to indicate their disapproval of the Dakota Access pipeline, a controversial underground oil pipeline from North Dakota to Illinois. Victoria Mansfield...
Fifty years ago, the UCSB Library created a separate unit to collect maps and aerial photographs. In 1979, the Map Room was renamed the Map & Imagery Laboratory (MIL) in order to acknowledge its role in supporting research and teaching on campus.  In the time since, MIL has evolved into one of...